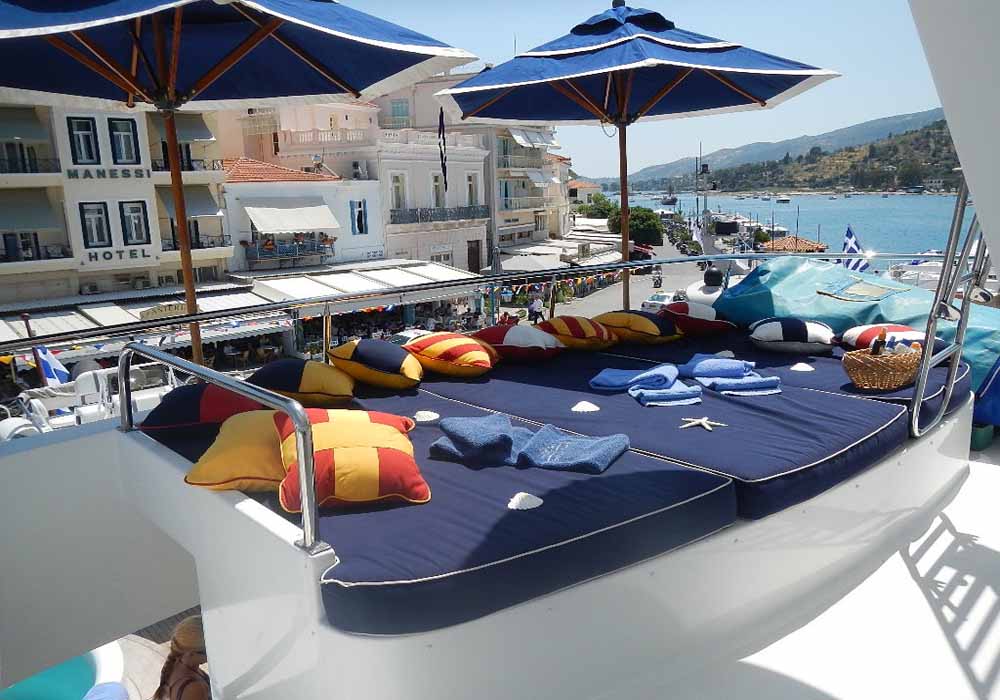 Turkey
Cesme Marina in Izmir can accommodate even more (and larger!) yachts than Sani so you'll be in good company once you arrive. Cesme harbor offers the awesome contrast of orange roof tiles overlooking the bluest of blue waters. This purpose-minded marina mirrors the relationship of Turkey's historic land and its harbor's sparkling yachts.
Common Ground
Both Sani and Cesme offer a touch of the old and exotic blended with the ultra-modern and familiar. Halkidiki and Izmir are historically linked and, with the addition of their respective marinas, are now easily accessible to you. Each port gives visitors the chance to see ancient temples and byzantine structures, thermal baths and sandy beaches. These new ports mean charter guests can cruise the Aegean confidently and comfortably while fully embracing the Mediterranean lifestyle. Greece's Thessaloniki and Turkey's Izmir were both redesigned after fires in the early 20th Century ravaged their respective streets. The result is a noticeably urban thread that has been woven into the surviving cityscapes. These ports are charmingly inconsistent as various styles have been forced to live side by side in ancient, tight quarters.
Have fun getting lost in the historic labyrinths of Cyprus, Greece, and Turkey. Then find yourself again in your cozy stateroom aboard the charter yacht that was patiently awaiting your return. There's no hurry in the time-tested eastern Mediterranean. Stand in awe of the old sun-bleached building facades and the new gleaming white yachts as they silently welcome you to their turf.

Want to read more blog posts?
We post blog articles about yacht chartering destinations and how to charter a private yacht periodically,
there are menus of both bogs for you to browse.

Read more about Destinations:
Contact us by phone or email. -7 days a week at no cost or obligation to you.