Portofino is a fishing village set in a cozy crescent shape in the Genoa Province of northwestern Italy. It has a small harbor, a hilltop castle that watches over the town, and enough olive groves to guarantee you won't forget you're in Italy! Portofino's proximity to the UNESCO World Heritage sites of Cinque Terra is also part of its convenience and charm.
Getting to Portofino
Visitors to Portofino can get there by boat from Genoa or by train from nearby Santa Margherita, Camogli, or other depots. Another terrific option is to charter a yacht that will navigate the tricky Ligurian Sea waters for you and deliver you safely to Portofino's magestic coast. Your view enroute will be amazingly romantic.
Once in Portofino, you will find life is easier sans automobile anyway as the area is basically car free and parking is an unwanted hassle. Since you're on foot, you should visit Portofino's regional park whose combination of wooded and flowery areas make for an excellent day trip. You'll get to walk among olive trees, hike trails, and view some lovely Italian gardens.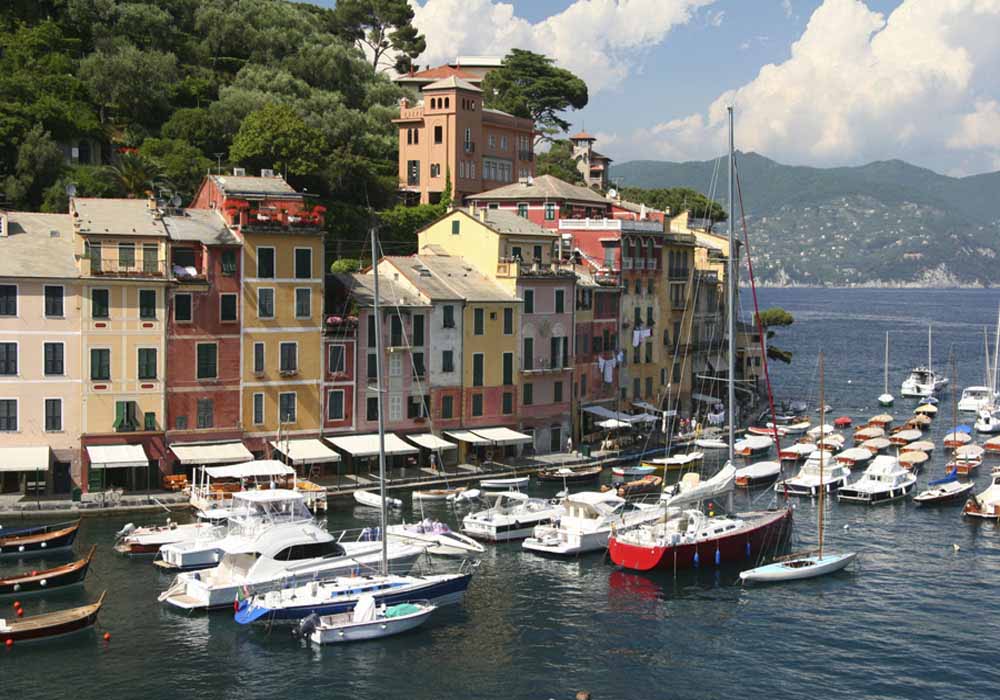 ---
Eating & Sleeping in Portofino
There's one thing that can't be avoided in this fishing village, and that is seafood! While dining al fresco and overlooking the harbor, you would find it odd if the menu weren't heavy on frutta de mare, and Portofino certainly delivers the goods in this respect. The other suggested dish is a Genovese specialty, green minestrone. Wash this down with some Italian vino, and you'll be good to go!
When it's time for a rest, you might want to check in to the Hotel San Giorgio or the quaint Domina Home Piccolo. Of course if you've opted to come to Portofino by charter yacht, then your accommodations are more than set! Head to the comforts of your cabin on board and let the crew take care of everything.
Gorgeous Geography
Portofino's naturally craggy coast makes for some interesting sites. Swimming and boating are restricted in the marine protected areas, but there are 20 dive sites and a number of outfits waiting to take you into the deep. Christ of the Abyss, a submerged statue in the San Fruttuoso area, is there as much as an attraction as to "watch over" fishermen and divers. The steep coastline has terrifically scenic overhangs, and Portofino's cobble-stoned town is quite popular with the luxury yacht set. A path near the botanic gardens will lead you up to Castello Brown where you can take in the entire scene. And once you've covered the recommended sites of Portofino, you can head to Cinque Terra's five unassuming towns, which are linked via coastal walkway. Looking down onto the town and the water from a rocky ledge might make you feel powerful, but looking up at the same cliffs and olive groves from your chartered yacht will fill you with a sense of awe. Portofino is truly inspiring!

Want to read more blog posts?
We post blog articles about yacht chartering destinations and how to charter a private yacht periodically,
there are menus of both bogs for you to browse.

Read more about Destinations:
Contact us by phone or email. -7 days a week at no cost or obligation to you.