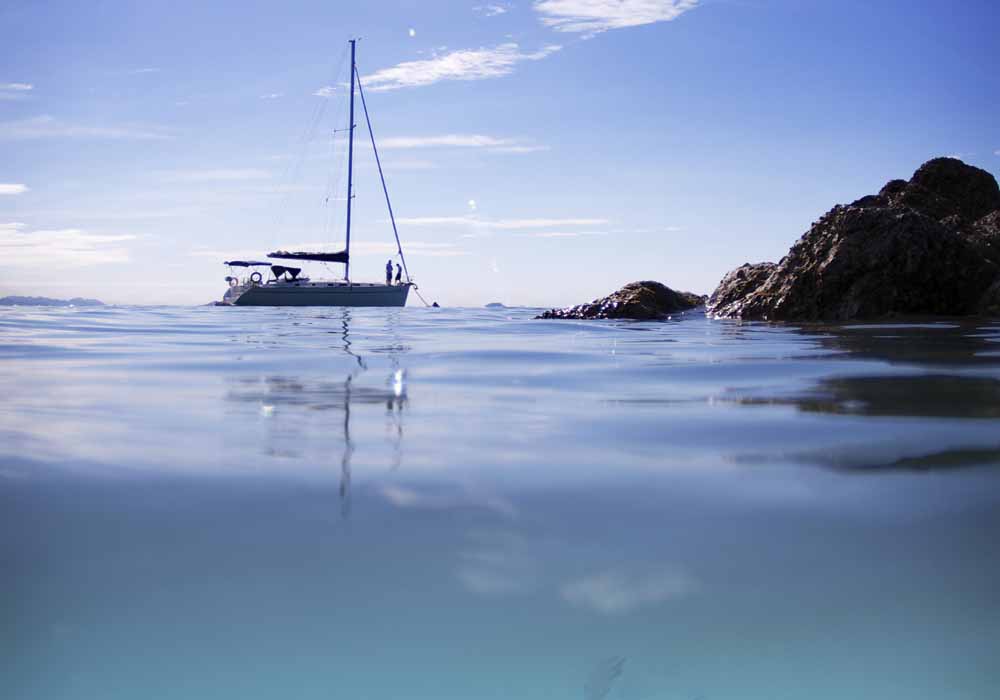 1. The Baths at Virgin Gorda
These are considered an absolute must see. For those who drive here, there is an entrance fee and a trail that must be traversed. This is not true for those who arrive by boat. Here you will find gigantic, plutonic boulders with incredible rock formations that create rooms, tunnels, and a cave to explore. Many people also like a swim in Devil's bay. If a cruise ship is in port, you will want to make sure you arrive early in the day, before 9 AM. There is a nice restaurant and gift shop at the top of the hill if you want to take the hike (it's about 20 minutes), or you can avoid the hike and the crowds and go back to your yacht to enjoy a lunch created by your own private chef!
Tip: Wearing water shoes, as opposed to sandals, can be a great protection to your feet and make getting around much easier.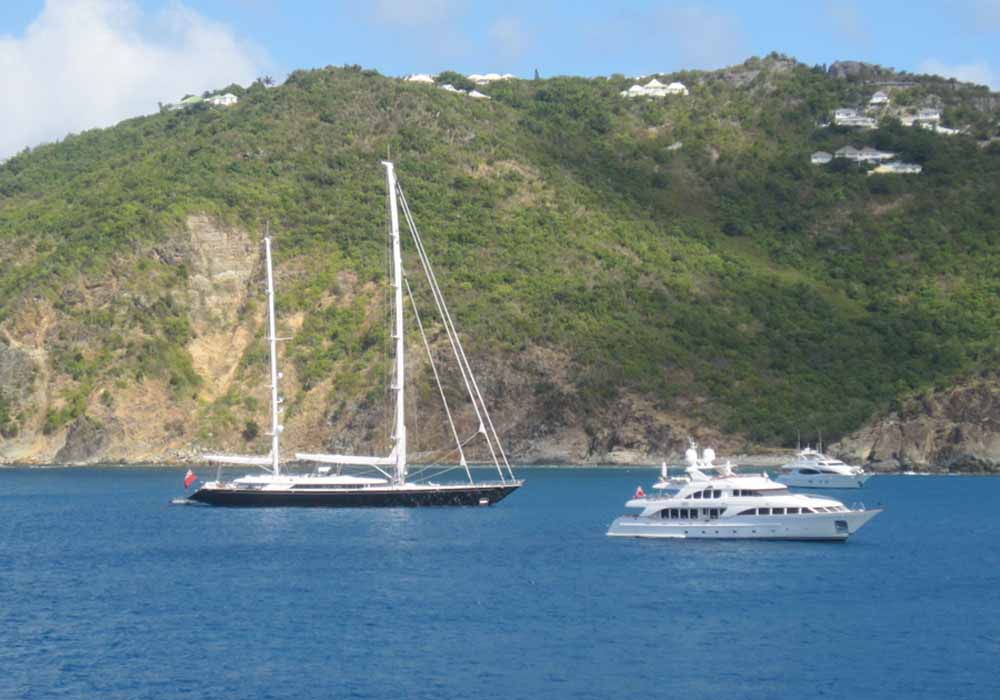 2. White Bay at Jost Van Dyke
Awarded one of Trip Advisors 2016 Travelers' Choice Awards, this is definitely a must see on a Caribbean yacht charter. The aqua blue waters of the bay meet the pristine white sand of White Bay Beach in the perfect paradigm of a Caribbean Island.
This is also the home of Soggy Dollar Bar. It got its name as the boats will anchor out a little ways from shore and some people will swim in, thus their dollars are "soggy". This bar can be hopping sometimes, especially when there are a number of boats in the bay, but it is well worth the wait to get a drink. They make the world famous "Painkillers", made up of pineapple juice, Pusser's Rum, Coco Lopez (that's cream of coconut), orange juice, and fresh nutmeg liberally sprinkled on top. It's sure to cure whatever ails you!
Also located on Jost Van Dyke, and considered a destination in and of itself, is Foxy's Tamarind Bar & Restaurant. The two specialty drinks of the house are the Sly Fox and the Dread Fox. Foxy's isn't just known for their drinks however, this place is known for the unique, Caribbean style food and Foxy himself! The Calypso style that Foxy brings to his story telling is something that guests take home with them as a once in a lifetime memory made in a small bar in an out of the way place in the Virgin Islands.
Tip: White Bay can be very busy with boats between 11 AM and 4 PM. If you want to avoid the crowds come early, anchor, go ashore and explore and leave after 4 PM, or come after 4 PM.
3. Norman's Island
Just a short boat ride away from Tortola, this small, uninhabited island is a must see. Since you have to get there by boat, it is not going to be overcrowded; this is not a cruise ship stop off. One of the great attractions here is snorkeling. The Bight offers calm, still waters for novice snorkelers before venturing into the more demanding waters of the caves, with their large, rocky outcroppings. When everyone feels ready to tackle Treasure Point caves, guests can find their entrance at the southern end of The Bight. After a long day of snorkeling, sunning, and just plan having fun, it's time to eat and maybe grab a Caribbean drink! Just because this island is uninhabited, doesn't mean there are no services! Pirates Bight is a great place to get a good meal. It's described as having great drinks and great food! If you're looking for a little more action, Willie T's is a floating bar and restaurant that has some great night life and a truly unique experience!
Tip: It's easy to forget to replenish the waterproof sunscreen while spending the day snorkeling, but the Caribbean sun can be unforgiving. Just because the sunscreen says "waterproof" doesn't mean you can put it on once and be carefree all day. Those who fail to take care of their skin end up spending the rest of their vacation nursing a sunburn.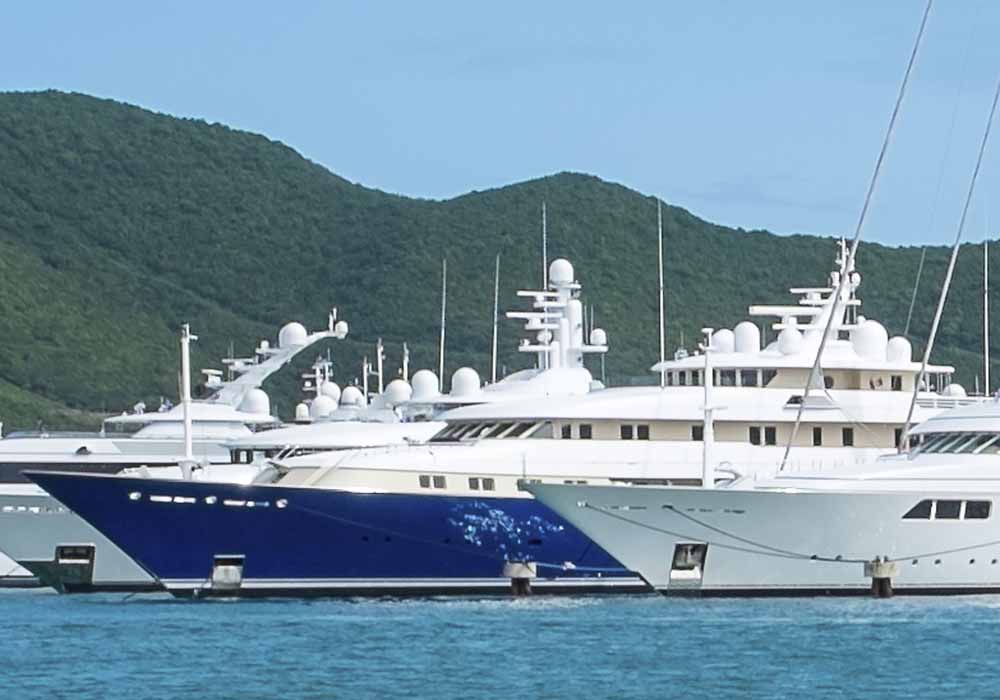 4. Maho Beach Snorkeling – St. John
Maho Beach is a great place to go snorkeling. The beach is large, and not a common place for cruise ship passengers to go. Here you will find clear waters and plenty to see. If you are looking for an underwater sea life encounter, this should do nicely. Besides the coral reef found at Maho Beach, there are sea turtles, nurse sharks, numerous types of fish, and occasionally you'll be able to see a ray or two. Usually Maho is the calmest waters around St. John as well, so it is great snorkeling for beginners and children.
This is a free beach; however, there are no services here either. If you are staying during a meal period, be sure to have your private chef pack you a picnic to eat while on shore.
Tip: If you are looking to see the sea turtles, you will see more of them on the north side of the beach in the late afternoon.
5. Smuggler's Cove - Tortola
Described as the "Beach of Paradise" and known as "Nature's Little Secret", the beach at Smuggler's Cove has swaying palm trees, crystal clear, turquoise waters, soft, white sand, and lacks the crowds you might find elsewhere. You won't find large establishments here, so you'll want to bring your beach chairs, and possibly a lunch, as the only place to get food is one of the small little stands that offer drinks and snacks. Often times there are pelicans flying over the waters as they prey on the fish of the reef below. Snorkeling is good here, as the waters are usually quite calm.
For those of you who love movies, it should be noted that the beach at Smuggler's Cove was used in the 1990 remake of Hemingway's, "Old Man and the Sea", starring Anthony Quinn.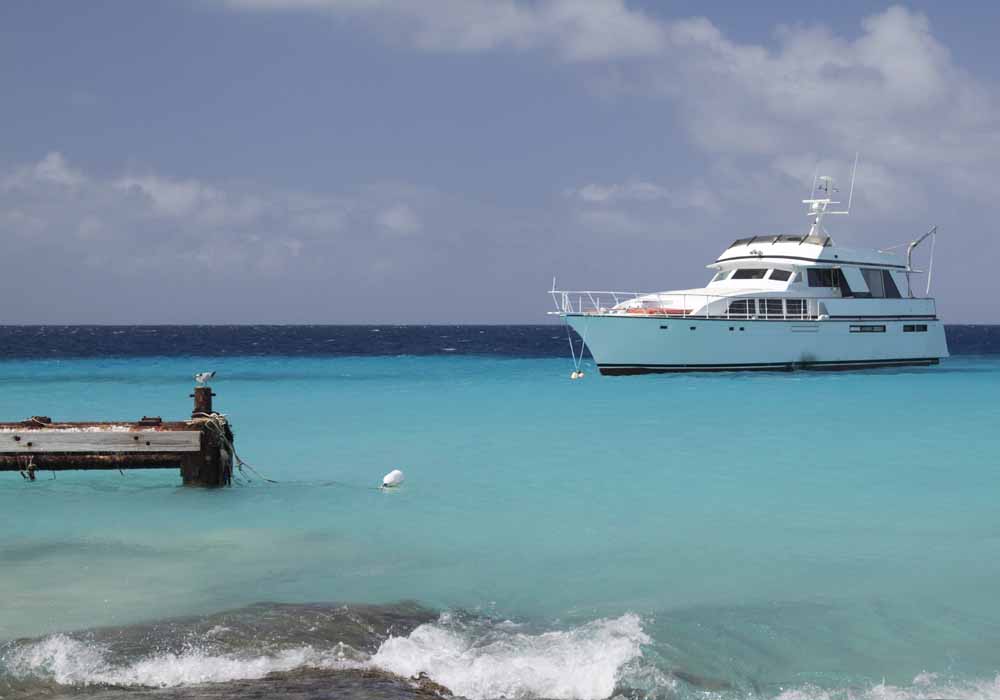 6. Dolphin Discovery - Tortola
If your dream has always been to swim with dolphins, Dolphin Discovery in Tortola will give you that chance! Here the dolphins are in a cove in the ocean in Tortola. You will swim with them in their natural sea water. This experience will give you a chance to interact with them that you wouldn't normally have otherwise. They offer several different packages to choose from, whether you just want to get in the water and interact with them with the tenderness and friendship Discovery Swim, or you really want to experience them with pure excitement and speed in the Royal Swim. The choice is yours!
Tip: So that groups have a closer experience with the dolphins, there is a limit of 10 people per group. Also, there is a viewing area for those who do not want to get in the water with the dolphins.
7. Rhone National Marine Park – Tortola
This is considered by many the best dive site in all of the BVIs. In 1867 the 310 foot long RMS (Royal Mail Steamer) Rhone was sunk during a hurricane with 125 people on board. Today she lies in two main pieces in shallow waters ranging between 30 to 90 feet deep, making this an excellent dive site for beginners, or even for snorkeling! Fast forward 113 years to 1980 we get to the establishment of the Rhone National Marine Park. This 800 acre marine park of course is named after the ship, but not only does it encompass both pieces of the Rhone, it includes Dead Chest Island, Blonde Rock, Rhone Reef, and Painted Walls. Besides having the two sections of ship to dive, Rhone Reef is an excellent site to dive, as are the sea grass beds which provide habitat for the sea turtles. This is the only marine park in the BVIs and is surely an attraction you won't want to miss.
8. Watermelon Cay – St. John
Watermelon Cay features one of the most vibrant, colorful, living reefs you will find! There is such a variety of coral to see including fire coral in bright hues of crimson, enormous arrays of purple fan coral, and giant elkhorn coral. You will be sure to see other sea life as well. Oftentimes rays, sea turtles, octopi, barracuda, and many colorful fish delight visitors with their presence. Occasionally dolphins even make an appearance!
There are some things to know if you'd like to go. First, there is a trail to Watermelon Cay that is flat, but nearly a mile long; however, since you will be on a yacht charter, you can have one of your crew members deliver you via your tender. Second, in some spots the reef is fairly shallow, being only 3 to 5 feet deep. You will want to ensure that if you snorkel over these areas, you are able to swim without touching the reef.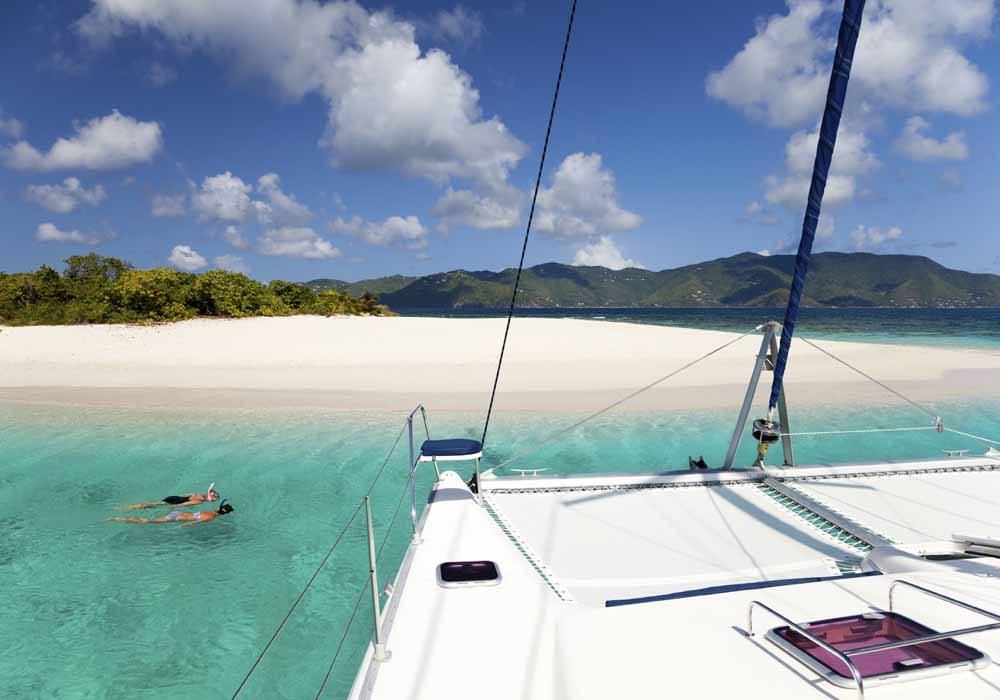 9. Anegada Island
Anegada Island is a gorgeous, remote little island in the BVIs. This particular little island is almost anti-Caribbean, as it is flat, having long beaches with nothing on them; think more Bahamas. Turquoise clear water and fabulous sand remind you that it is indeed one of the Virgin Islands, however. People here are laid back and ready to help make your vacation everything you want it to be. There are few residents and the isolation of this island helps to maintain its pristine conditions. Wildlife on the island include, among others, flocks of pink flamingos and rare iguanas. Snorkeling at Loblolly Beach is a favorite at this amazing atoll. Anegada is known to have the best lobster in the entire Caribbean, so if you decide to visit, lobster dinner on the beach is a perfect way to end your day.
Tip: Due to the flat geography, the waters near the island are very shallow. If you are on a single hull sailing yacht charter, your captain may need to anchor out and ferry you in via tender.
10. Shopping Specialty and Gift Shops
Most people know that the Caribbean offers duty free and tax free shopping; however, most people do not realize that the Virgin Islands offer twice the allowance of the other Caribbean Islands, $1600 for U.S. residents! You can even send gifts home to family or friends, up to $100 per address per day, duty free. But where are the best places to shop? Throughout your luxury yacht charter vacation in the Virgin Islands you will find great little souvenir shops, but none will compare to the shopping on St. Thomas! And with prices 30 to 60% off what you are used to in the states, who can resist? Some of the really great places include: Ajanta's Jewelers, Grand Jewelers, and House of Raja Jewelers. There is one specialty shop called Water Candy that makes jewelry and specialty gifts that has been known to make what you want if you can't find it in her shop. A couple of other specialty shops of mention in St. Thomas are Barefoot Buddha Boutique and Olga's Gloves.
If you are looking to go shopping in St. John there are quite a number of places you might try out there. In the way of Jewelry, Bamboo Studio is considered the best on the island; however, Kro-gu makes one of a kind pieces that you might want to check out as well, while Vibe Collection is a good place to get a romantic gift. For a great selection of a variety of shops, St. Johns offers Mongoose Junction. Here you can go from one shop to another. Even if you are not much of a shopper, there is a lot to see. The architecture of the buildings will no doubt grab your attention, and you can always sit outside taking in the scenery, sipping on a local beer, while other members of your party enjoy the shopping.
Conclusion
No matter what interests you, we are certain there is something for everyone on a Virgin Island Yacht Charter. So when someone asks, "What did you do last week?" imagine what it would be like to explain the adventures of the ultimate vacation on a private, fully crewed, luxury yacht vacation to the Virgin Islands? We can help make that dream a reality!
---

Want to read more blog posts?
We post blog articles about yacht chartering destinations and how to charter a private yacht periodically,
there are menus of both bogs for you to browse.

Read more about Destinations:
Contact us by phone or email. -7 days a week at no cost or obligation to you.