Gustavia
From the capital city, Gustavia, you will be able to see the mega yachts, motor yachts, and large sailing yachts moored in the harbor, as they use their large tenders to ferry their guests to shore. On your vacation, your yacht will likely be one of these moored in St Barts harbor, while you enjoy the beautiful French style town of Gustavia.
Gustavia reflects the French flair of the island. The shops and restaurants are designed with a French architecture. The food and wine is of the highest quality. There are many places to relax with a glass of wine and enjoy the fresh, Caribbean air. The merchandise in the shops are luxury brands, they have come from long distance, and will be priced in Euros, so don't expect a bargain.
Christmas and New Year's Eve
Christmas and New Years are by far the busiest time of year in St. Barts, so if you are looking for the party crowd, this is the best time to book your st Barts charter. If you are looking for a little less excitement, plan your charter before or after these dates. Please keep in mind; however, that if you are looking for a place dockside during Christmas and New Years, space is extremely limited and only for the extremely fortunate, so plan well in advance!
The Beaches of St Bart's
The Beaches of St. Barts offer something for everyone. From secluded, limited access beaches to beaches that offer site surfing, and everything in between, St. Barts has variety.
If you are looking for serenity and tranquility, then Colombier Beach may be just the spot for you. Also known as Rockefeller's Beach, this beach requires a 40 minute hike down a rugged trail to a secluded beach that doesn't have any services, so it's best to bring food and drinks with you. But why do that, when you have already booked your luxury yacht? You have the capability of having your captain pull your yacht directly into this secluded cove.
There are several other fairly tranquil beaches on the island. Grande Saline Beach is comprised of beautiful white sand and is alongside an old salt mine, for which the beach gets its name. Flammands Beach is also a very tranquil beach, which gives a nice view of the islands beyond St. Barts. Gouverneur Beach is free of hotels and has an incredible view of blue skies and amazing turquoise waters that meet at the horizon, making it a wonderful place to go snorkeling.
For those looking for more fun, here are a few options. Shell Beach is one of the smaller beaches, and is named for all of the tiny shells that cover it. It is known for the cocktails, food, and music. St. Jeans Beach is separated by Eden Rocks Hotel, and has many activities including various watersports, wonderful cuisine, and is in close proximity to shopping.
Email Us Now - Free unbiased advice.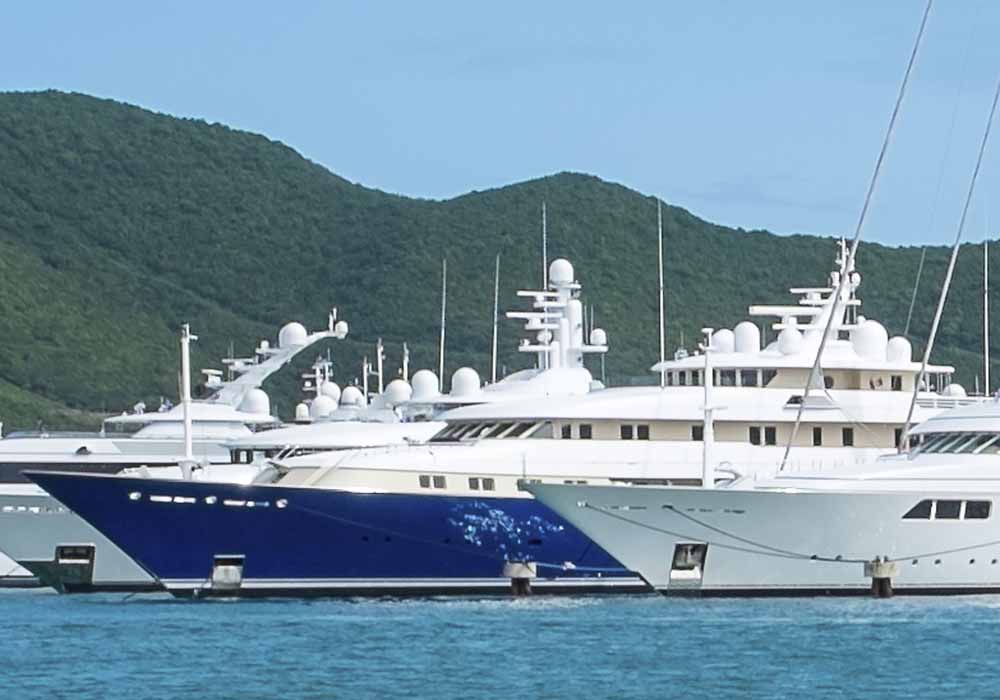 Find Your Perfect Yacht for a Charter in St Barts
Select a yacht type and your budget below to see charter yachts that we have in our online database. We do not have every available yacht online, many more yachts are available by contacting one of our specialists.
Ready to learn more about a luxury St Barts charter?
Have you made your decision to book your yacht charter for St. Barts? It is a must see in the Leeward Islands. One of our experts will be glad to assist you in getting just the right yacht for you. We are the ONLY crewed charter company you need to contact to find and book your Caribbean vacation.
Reach a specialist - available 7 days a week.

Charter costs and options:
Have general questions about a charter in St Barts? We have answers for you.
What are all the costs involved in a charter?

Additional Resources:
Some websites on the web that may be useful for additional information about St Barts.
Local site all about St Barths.
View another St. Bart's site

22 reasons to love St Barths.

How we can help:
We are here to answer any question, no matter how large or small it may be. Our experience is available to you 7 days a week at no cost or obligation to you.
Reach us by phone or email.