Day One:
Begin this wonderful week and a half journey in Antibes, where you will board your charter yacht and immediately get accustomed to the luxuriuos accommodations. Take in the scenery as you sail to Monaco in the afternoon. Stroll the seafront before hitting the Monte Carlo Casino at night!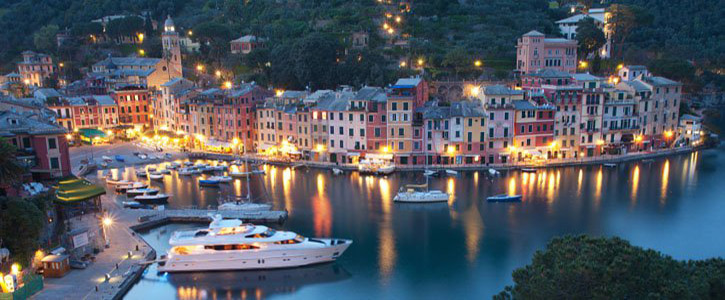 Day Two:
Spend the day and evening in picturesque Portofino. An overnight voyage will have gotten you to this colorful Italian village with ample time to go diving, visit the beach, and do some shopping.
Day Three:
Explore and relax soaking in this picture perfect part of the Italian coast, or head south early to Corsica.
Day Four:
Arrive in Bonifacio, Corsica where you will see a medieval walled town rising up from the natural harbor's narrow inlet. Bonifacio offers a great contrast of sea and mountain, port and fortress.
Day Five:
Linger in the waters of Budelli Island in the morning and then make your way over to Porto Cervo, Sardinia. Go for a swim, then eat lunch onboard, and relax on deck as you move from island to island.
Day Six:
Enjoy an entire day and night in Porto Cervo, Sardinia's premiere vacation spot. This seaside resort area is Costa Smeralda's main center; it is posh and casual at the same time.
Day Seven:
Leave Porto Cervo at noon and go visit Cala Di Volpe on the east coast of Sardinia. This famous hotel has great amenities including watersports, tennis courts, putting green, and beach scene!
Day Eight:
Cruise over to Maddalena Island and drop anchor so you can go for a swim or just lounge on deck. The island has a couple beaches and ancient forts; pedestrians tend to gather at Piazza Umberto I. Cruise overnight to the west coast of Corsica.
Day Nine:
Wake up in the Golfo de Giralata. Go ashore to visit the local village or plan an excursion to Ajaccio. Ajaccio is a sheltered, commercial port whose town center has palm trees, hotels, and shops. You are more than welcome to stay in the gulf and go swimming before making a night sail to Antibes.
Day Ten:
Explore Antibes, do yourself a favor and wander around town for a while. Antibes has its share of quality museums, parks, and restaurants. Pretty Juan-les-Pins juts out from Antibes and provides the perfect place to sit down and reflect on what a trip you've had.
Day Eleven:
Depart Antibes at noon, don't forget to write down your favorite parts so you can repeat them on your next charter!

This Is Just a Sampler!
NOTE: This is intended as an outline only of some of the cruising locations of the western part of the Mediterranean. You will work with your Captain to tailor your charter to your preferences both before you arrive and while you are onboard. Alterations likely will be made along the way based on your preferences and mood.
Interested in the South of France? Read More >
or Contact us to start planning your crewed yacht charter!
Browse Charter Yachts in the Mediterranean: