Day One:
Check out your floating paradise as you climb aboard the private charter yacht of your dreams! Here you are in pristine Monaco with a full week of fun in front of you. Celebrate your first night by hitting the principality's famed Monte Carlo Casino and indulging in fine dining and fancy drinks.
Day Two:
Set sail for Portofino, Italy whose sheltered cove is perfect for welcoming yachts and their visitors. Your eyes will be treated to a colorful surprise as you glide around Portofino's botanically rich peninsula. There's a small, sandy spot called Paraggi that has bright houses and a fun beach to explore.
Days Three and Four:
See St. Tropez sparkle and shimmer! The glow of the celebrities is matched only by the sun reflecting off the warm waters of the Mediterranean in this quintessential French Riviera town. Go ahead and get swept up in its star power and then come back to earth to visit the citadel, see art exhibits, and taste the nightlife. You can anchor off the beach and get yourself a private cabana or head to the nearby Porquerolles to try the watersports. And don't forget to go shopping!
Day Five:
Cruise over to Cannes, another famous hotspot on the French Riviera. Enjoy a leisurely stroll down La Croisette, which is Cannes' main pedestrian thoroughfare and the best place to eat, shop, and people watch. In the evening get refreshing drinks at Hotel Carlton and let the sun set gently over you.
Day Six:
Have the captain take you to Cap Ferrat where you will enjoy a blissfully calm morning relaxing on board and viewing elegant homes and gardens. Then anchor the yacht off Villefranche so you can go for a swim and play with the water toys! Dine on board and have cocktails on deck under the stars.
Day Seven:
Return to Monaco and use it as your base for sightseeing in the surrounding area. Be sure to visit Eze, the marvelously medieval village that has preserved its walled structures while also modernizing to become tourist-friendly. The Mediterranean views from Eze are unparalleled, and its Jardin Botanique is worth a look too. Shop for Fragonard perfume, dine alfresco overlooking the sea, and prepare to disembark in Monaco at noon on the eighth day of this fantastic trip. See you next time!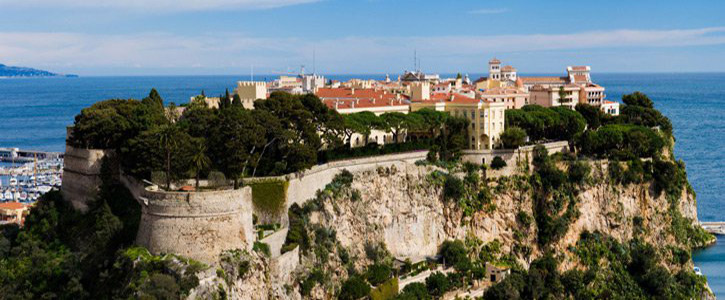 This Is Just a Sampler!
NOTE: This is intended as an outline of some of the cruising locations near Monaco. You will work with your Captain to tailor your charter to your preferences both before you arrive and while you are onboard. Alterations likely will be made along the way based on your preferences and mood.
Interested in Riviera? Read More >
or Contact us to start planning your crewed yacht charter!
Browse Charter Yachts in the Mediterranean: