Day One:
Board your beautiful charter yacht in equally beautiful Positano, Italy. This bright coastal town has colorful boats on the beach and houses stacked high on its hills. Eat lunch aboard, play in the water, and then head to Capri where you will spend the night.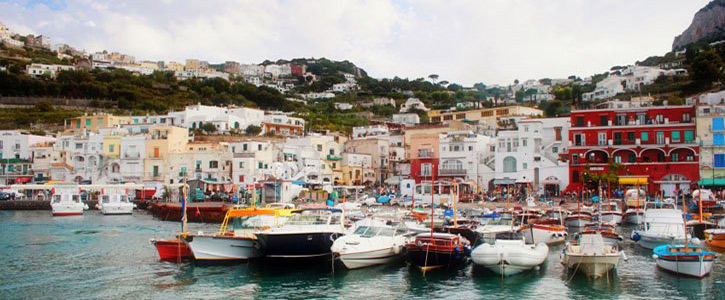 Day Two:
Wake up to the wonderful sights and sounds of Capri and get ready to shop high up in the western hills of this fantastic island in the Tyrrhenian Sea. Allow the captain to circumnavigate the island before you anchor at Marina Piccolo and visit the Blue Grotto.
Day Three:
Cruise over to Sorrento, a gem of a town overlooking the Bay of Naples. From the right vantage point, you can see Capri, Naples, and Mt. Vesuvius. Relax at a cafe in Sorrento while you indulge with a Limoncello, which is a local specialty.
Day Four:
Head towards the Ponza Islands, a snorkel-friendly archipelago in the Tyrrhenian Sea. While Ponza itself is inhabited, the smaller islands are not. Smell the flowers, lie on the beaches, and drink wine from local vineyards. Make sure today includes a visit to Palmarola.
Day Five:
Arrive in Sardinia, perfectly refreshed after a pleasant overnight cruise. Anchor at the world famous Hotel Cala Di Volpe, which has an outdoor pool, tennis courts, a putting green, and of course, perfect white sand! Take the tender to the east coast's Porto Rotondo to shop.
Day Six:
Make your way to Sardinia's primo seaside resort, Porto Cervo. This is Costa Smeralda's main center, and it features some truly high end real estate! There are a few residents here as well as some shops and an art gallery. For a one week charter you may choose to make Porto Cervo your departure point and spend the remining time exploring the island of Sardinia.
Day Seven:
Enjoy life on the border as you island hop through the Bonifacio Straits, which flow between Sardinia, Italy and Corsica, France. La Vezzi Islands are a small archipelago within the straits' nature reserve, and they offer great opportunities to swim and snorkel.
Day Eight:
Stay the day in Bonifacio, Corsica. This is an amazing natural harbor whose narrow inlet lies between high walls of white rock. Bonifacio is a medieval walled town with a fortress. There is the Old Town and the Upper City, which provides a view of the Mediterranean Sea.
Day Nine:
Get going to Ajaccio, Corsica's commercial port that perfectly supports both fishing and yachting communities. This sheltered spot at the bottom of wooded hills is a great place to anchor your yacht. Walk Ajaccio's urban area set among palm trees, hotels, and shops.
Day Ten:
Head over to the Gulf of Girolata, a UNESCO World Heritage Site. The Gulf's Reserve of Scandola protects seagulls, cormorants, and sea eagles, plus an abundance of marine life hidden in caves! Enjoy the sand, sea grottos, and scrubland of this fantastic area.
Day Eleven:
Move on to Calvi to get the most out of your last full day on the charter yacht if you are planning just a 12 day adventure. Soak up the panoramic view as you approach the charming harbor. Calvi is reputedly the birthplace of Christopher Columbus, so make him proud and explore the town's citadel!
Day Twelve:
Cross the sea to Antibes; arrive in style among the lucky few who get to approach France's Cote d'Azur from the water. This hotspot between Cannes and Nice has beaches, gardens, a lighthouse, museums, and parks galore! Have fun and safe travels home!

This Is Just a Sampler!
NOTE: This is intended as an outline of some of the cruising locations between the coast of Italy and the south of France. It will give you an idea of where you may want to explore in the western Mediterranean on a charter yacht. You will work with your Captain to tailor your mediterranean charter to your preferences both before you arrive and while you are onboard. Alterations likely will be made along the way based on your preferences.
or Contact us to start planning your crewed yacht charter!
Browse Charter Yachts in the Mediterranean: