Day One:
Your adventure starts at Crown Bay Marina, St. Thomas in the US Virgin Islands. Stay at the marina as you eat lunch and take in the view of colorful St. Thomas from the deck of your chartered yacht. Choose between an afternoon and overnight visit either to Christmas Cove, Great St. James, or Caneel Bay, St. John. Christmas Cove has a few moorings and provides good wind protection for anchored boats. Caneel Bay is a luxury beach resort set within the boundaries of a National Park. Privacy or natural beauty, either way you won't be disappointed!
Day Two:
This busy day begins on Jost Van Dyke with a recommended trip to Foxy's Bar for a Painkiller (a very popular island drink) and a quick shop in the adjoining boutique. Walk along the beachside street, which serves as the main road, before you hop back on the yacht. Then head over to Monkey Point, off Great Guana Island, for lunch and a rest on the beach. Indulge in water sports here at Monkey Point before you go to Marina Cay where you may spend the night. Use the remaining daylight hours at Marina Cay to look for squid while you snorkel!
Day Three:
Cruise on over to the 'Baths' of Virgin Gorda. Play in these natural sea water pools and then let the captain take you to Virgin Gorda Yacht Harbour for lunch. Explore Spanish Town while you're here. As pleasant as it is in the water, it's nice to see Caribbean life on land too! After Spanish Town, you'll steer the yacht to Virgin Gorda Sound where you'll stay for the night. Definitely check out the upscale Bitter End Resort and the famed Biras Creek, which touches both the Caribbean Sea and Atlantic Ocean.
Day Four:
You will get a full day of fun here in Virgin Gorda Sound because your yacht will be staying another night. You'll be grateful for the time to explore this popular destination. Take the yacht's tender perhaps to Eustacia Sound for some snorkeling, sneak a peek at Richard Branson's private Necker Island, or rent a jeep to really delve into this undeveloped island. However you spend the day, you should consider ending it with a drink at Little Dix Bay, a luxury resort that will remind you just how good life is!
Day Five:
If the weather is good, perhaps head for Anegada, 'the drowned island,' which won't be apparent until you're already there. Anegada sneaks up on people in more ways than one! Not only is the terrain extremely low, it's also surrounded by reefs that have shipwrecked many boats. The good news is that the shipwrecks provide hours of entertainment for divers. If you are in the novice snorkeler category, then have the crew direct you to Anegada's north shore instead. At the end of a day spent in the water, consider a beach barbeque dinner at Lowell's Anegada Reefs Hotel. You'll be served impossibly fresh lobsters at a table on the beach. Of course you may want to enjoy this on the deck of your charter yacht. Bon appetit!
Day Six:
Head toward Peter Island and spend the morning at Half Moon Bay's spectacular beach. Switch up the scenery with a hike to Peter Island's windward beach. This spot is great for beachcombing. Peter Island offers casual dining at a beach restaurant, but you are more than welcome to eat on board the yacht of course! Settle in to Great Harbour or Little Harbour for the night. Try to fit in some waterskiing or swimming with fish before dinner!
Day Seven:
Enjoy your last full day at The Bight, Norman Island. Norman Island itself (likened to Stevenson's Treasure Island) is uninhabited, and The Bight is quite popular with boaters for all of the water sports that are available. After you've waterskiing and kayaking, round out the day with some snorkeling amidst "The Indians" in the channel between Norman Island and St. John. By late afternoon you may be on your way to either Leinster Bay or Caneel Bay to spend the night.
Day Eight:
Steam back to St. Thomas where you will disembark after your great adventure. There's so much fun to be had in the Virgin Islands that we guarantee you'll want a return trip! We'll be here to help!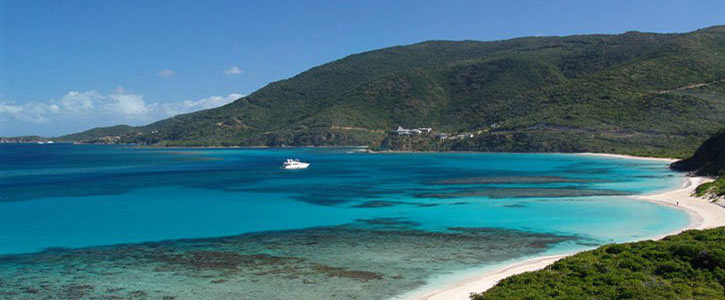 This Is Just a Sampler!
NOTE: This is intended as a suggestion, to give you an idea of where you may want to explore on a weeklong charter vacation in the Virgin Islands. You will work with your Captain to tailor the charter to your preferences both before and during your vacation. Alterations will likely be made along the way, for instance, when you fall in love with one particular beach and a you have to spend an extra day!
The Virgin islands:-Read more >
or Contact us to start planning your crewed yacht charter!
Browse All Charter Yachts in the Caribbean: