Day One:
Get started at Crown Bay Marina in beautiful St. Thomas! Meet the captain and crew aboard your fabulous chartered yacht. Then leave immediately for Christmas Cove on Great St. James where you will stop for lunch. You'll have just enough distance from St. Thomas to enjoy the Caribbean surroundings privately while you eat on deck.
There are two options for the afternoon. (1) Go to Leinster Bay, St. John to take a swim or snorkel Waterlemon Cay. St. John is largely dedicated to a National Park and is a serenely pretty stop. (2) Go to Jost Van Dyke and anchor at Great Harbour (where you'll have to clear Customs/Immigration). Jost Van Dyke is the opposite of St. John; there is a lively bar scene (have a Painkiller at Foxy's!), and it's more populated. Check out White Bay and then take a stroll down the main street, which runs parallel to the beach.
Day Two:
Move on to Sandy Isle, the 'South Sea Island,' for swimming and quality beach time. Then hike the entire perimeter. It will take you less than an hour! Take the yacht to Monkey Point, off Great Guana Island, and have your lunch here. Relax on the beach, get out the snorkel gear, or try other water sports. When you're ready, the captain may steer you to Marina Cay to spend the night. If you haven't already, now's your chance to snorkel with squid! Unwind with dinner and a nightcap on board.
Day Three:
Cruise over to the 'Baths' of Virgin Gorda. The baths are natural sea water pools that provide great grounds for snorkeling. Keep your suit and snorkel gear on and go to nearby Fallen Jerusalem for more underwater creature sightings. Then it's on to Peter Island for lunch! Deadman Bay has one of the best beaches in the British Virgin Islands. Take a hike over to the windward side for some beachcombing. Choose between an overnight at Great Harbour or Little Harbour, Peter Island. If you're lucky, you will spot a tarpon on your afternoon swim! End the day dining al fresco under the Caribbean sky.
Day Four:
Explore the uninhabited Norman Island, reputed to be Stevenson's Treasure Island itself! You'll be staying the night at The Bight, a favorite among the yachting set. The Bight offers the best water sports in all of the BVIs. Go waterskiing, hop in a kayak, or snorkel at the 'caves.' Another fun place to investigate is 'The Indians,' a channel running between Norman Island and St. John. William Thornton Floating Bar and Restaurant (exactly what it sounds like) is popular if you've got a boat, but Pirate's Bight Restaurant on land is a fine choice too, though we'd expect by now you love the meals onboard. However you choose to spend your last night, you'll surely have a memorable time!
Day Five:
Steam back to Crown Bay Marina on St. Thomas where you will disembark. Try to get in some shopping in Charlotte Amalie before you catch your flight home!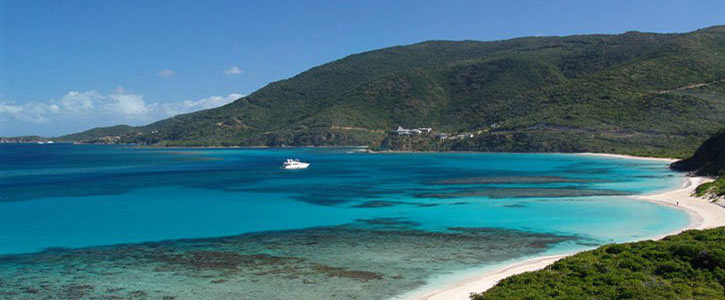 This Is Just a Sampler!
NOTE: This is intended as a suggestion, to give you an idea of where you may want to visit in the Virgin Islands on a short charter. You will work with your Captain to tailor your vacation in the Virgins to your preferences both before and during your yacht charter. Alterations will likel be made along the way, for times when you find the perfect place and just don't want to leave it right away!
Read more >

or Contact us to start planning your crewed yacht charter!
Browse All Charter Yachts in the Caribbean: