Weather in the South of France
Can you imagine anything more perfect than a trip on the South of France? The French Riviera offers visitors stylish accommodations, elegant shopping, and mild, sunny weather. Read on to find out when would be best for you to go!
Winters along France's Mediterranean coast can be chilly with a little rain, but no snow. Because the temperature has dropped, you will also be vying with fewer people for reservations at hotels and restaurants. From December to March the average temperature is around 50 degrees Fahrenheit.
Temperatures start to rise in April, and in May the area bursts into life with Cannes Film Festival and Monaco's Formula 1 Race. Both spring and fall host a colorful explosion of blossoms. The rain and Mistral winds in these seasons typically don't reach the coast because of southern France's mountains.
Summer on the French Riviera is fairly dry with a nice sea breeze. Temperatures average between 75 and 80 degrees. From May to July visitors experience warm weather and moderate crowds, but the sea will still be cold. August has perfect weather, but that also means it's perfectly crowded!
Among its many festivals, the south of France has lemon, honey, and corn fests, which signify the area's involvement in agriculture all year long. So it could definitely be said there's no bad time to go, though obviously the majority of yacht charters occur in the summer months. Bon voyage!
Weather in Sardinia
Planning a trip to Sardinia in the middle of the Mediterranean? Use this guide to determine the best time for you to go. Sardinia is a wonderful Italian island with interesting landscapes and long summers, but don't just take our word for it! See for yourself.
Sardinia is busiest in August because this is when many Italians are on holiday. Sardinia experiences very hot summers so please pack your sunblock if you plan to go then. The heat tends to dry out Sardinia's vegetation, but the Mistral winds help cool off the northwest coast.
The temperatures stay warm through the fall (up to 85 degrees), and this time of year is when the sea is warmest too. It can be quite pleasant to have dinner or evening drinks outdoors in the summer and fall months. As fall advances, you will notice evening temperatures starting to drop.
Winter in Sardinia is fairly brief, running from the end of December to February. January and February see the most rain, and sometimes there's even snow. Though winter is great for having more of the island to yourself, you should be mindful of the fact that some businesses close during the slow season and very few charter yachts will be available, if any. February's rain makes for a vibrant spring; March, April, and May see an eruption of flowers and green grasses.
May in Sardinia can get up to 85 degrees, which helps account for the island's notoriously long summers. People swim from May to October, so pack your suit and see what all the talk is about!
Weather in Sicily
Ever dreamed of a rustic Italian getaway to Sicily but not sure when to go? We could easily argue that every season has something new and interesting to offer, but people's preferences are markedly different from one another. So the best advice is to read the seasonal descriptions below and choose the best fit for your group.
Generally speaking, Sicily's mountainous interior is cooler than the coasts. The regions in Sicily's south and west tend to be both hotter and drier on account of the Sirocco winds and the area's proximity to North Africa. Beach season in Sicily runs from June to October.
Sicily can get a fair bit of rain starting in the fall and carrying on through winter. When cool temperatures mix with precipitation, Mt. Etna gets some real snow! And yes, there are ski resorts in Sicily! You have the option of hitting the slopes one day and then strolling along the Mediterranean coastline the next.
Summers in Sicily are hot and dry and when most yacht charters occur by far. August hosts quite a few tourists. April, May, and June; however, have warm temperatures and fewer people. September and October also offer mild temperatures PLUS the water is warm then!
Part of the beauty of Sicily's landscape is the space that is dedicated to farming. Besides the requisite olive groves, you will see a profusion of other crops. If you're there in August, check out the salt and grape harvests. In September, it's time to gather pistachios and hazelnuts. Or just stay till October for the winemaking!
Many people head to Sicily from Naples. The weather in Naples is basically hot in the summer and cool and wet in the winter. Spring and fall are comfortably in between. Going from Naples to Sicily by yacht is a better option than flying. You'll feel Mediterranean breezes on your skin as you approach Mt. Etna from sea level. It's a beautiful experience!
Weather on the Croatian Coast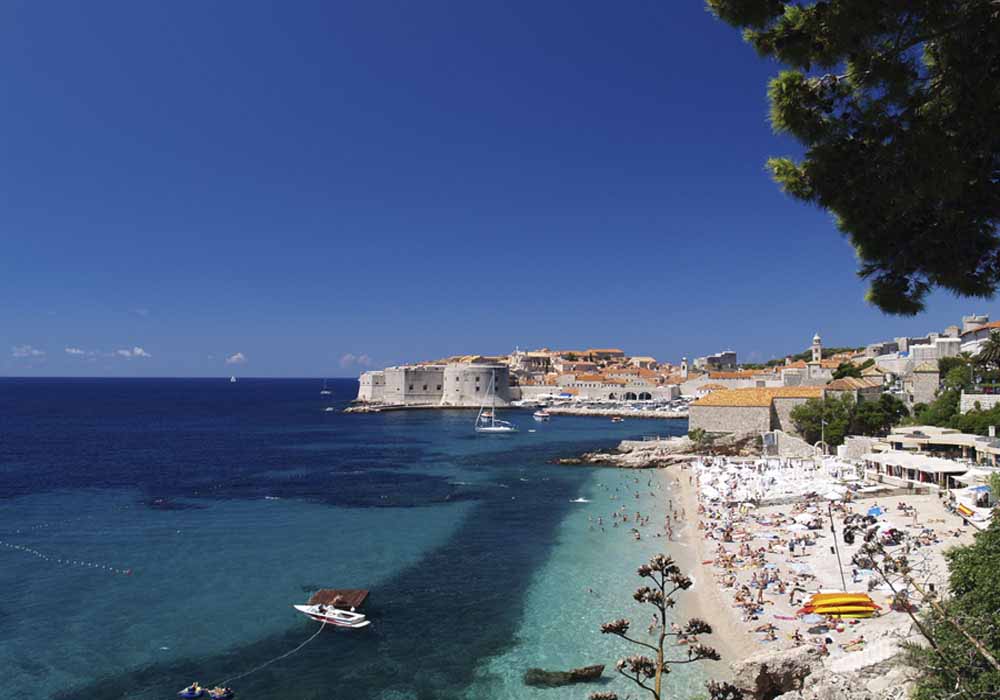 The Croatian coast is a sparkling gem cut perfectly to show off all its rugged good looks. This strip along the Adriatic boasts dramatic landscapes, functioning lighthouses, and fantastic weather. Coastal Croatia, which differs from inland Croatia, has a Mediterranean climate that soothes the soul and smooths your sailing.
As expected, July and August are the hottest months. If your goal is to enjoy warm water and moderate temperatures while avoiding peak season, then you should think of June or September as your most viable option.
Starting in May (and on till September), Croatia experiences prime conditions for sailing. The northerly winds called Bura work to your benefit when you set out on sail-powered excursions. Motor yacht guests also welcome the breeze as they spend afternoons lounging on deck. Coastal air tends to help cool the summers and warm the winters.
Humidity is fairly low, and summers see 10-12 hours of sun a day! November is the area's wettest month, and this leads into the winter, which isn't dismal but is considerably less sunny (three to five hours a day). Except for mountainous interior segments, Croatia does not get much snow. The manageable crowds, warm weather, and calm water in June and September attract people "in the know." Whenever you decide to go, take time to appreciate Croatia from the sea and from the land. In spite of rather poor soil, Croatians are able to grow a nice variety of olives and grapes, which enhance the scenery and provide delicious snacks!
Weather in the Greek Islands
The Greek Islands are numerous and not without their hidden charms. Grecian history, architecture, and hospitable people all make for an interesting, welcoming vacation. The Cyclades are a group of islands southeast of mainland Greece that have hot, dry summers and mild winters. And the proximity of the Cyclades to one another means it's easy to island hop your way to adventure!
The Meltemi is a strong northerly summer wind that gives the Cyclades great conditions for sailing and windsurfing. Ultimately everyone appreciates the Meltemi because it helps lessen the effects of humidity! July and August can exceed 100 degrees Fahrenheit so you'll need plenty of sunscreen if you plan to travel then.
August is very popular on the Isles because many Greeks (as well as other Europeans) are on holiday then. Temperatures noticeably start to rise in May, and this area stays warm through September, which means you can enjoy a Greek vacation and still avoid peak tourist time. From mid-October to February, it is the rainy season, and naturally the temperatures drop.
Because the Cyclades winter is not conducive to outdoor activities, many hotels, restaurants, and service-related businesses are closed at this time. Also note that the transportation schedules likely will be shortened/altered. The good news is that an off season trip would grant you peace and quiet if you could find a charter yacht which also has not been "closed" for the winter. If you want the typical sunshine filled Greek experience but aren't able to go between May and October, you could plan an alternate visit to Crete where it stays warm from April to November.
Weather in Turkey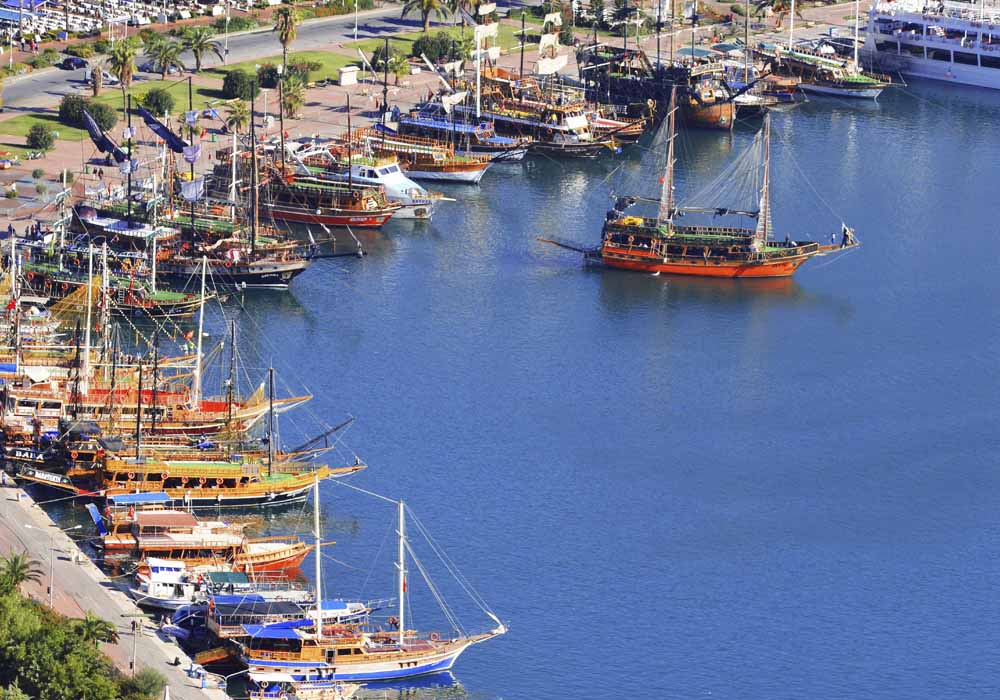 Turkey is blessed with coasts on the Aegean and Mediterranean Seas. Turkish land also borders the Black Sea, but yachts do not visit here with the same frequency. The Aegean and Mediterranean coasts offer what charter guests are looking for: exotic landscapes, reasonable sailing conditions, and of course, sunshine!
Coastal summers can be a little humid so many consider late spring and early fall to be ideal travel times. While on charter, you can always ask the captain to take the yacht to a hidden cove or calm bay for everyone to enjoy a refreshing swim.
When broken down into regions, it is actually southeast Anatolia that scores the highest temperatures followed by the Mediterranean coast and then the Aegean. Many people like the action around Antalya, Turkey's biggest international resort on the Med, because of its hot summer and its tourist amenities. This area generally sees 300 days of sun annually, and summer temperatures hover around 90 degrees Fahrenheit. This means that the sea is warm and that water sports are abundant.
The rainy season arrives sometime in October and lasts till April. But it is only in January and February that temperatures drop to the 50s. Don't expect to find much happening then! The lure of the Aegean coast is that it's sunny and fertile with great swaths of land dedicated to growing olives, fruit, and sunflowers. The Mediterranean coast is just south of a mountainous backdrop and has some wonderful sandy beaches. An escape to either coast won't disappoint!