Days One and Two:
Start your charter by exploring the various inlets of Gocek Bay. Cleopatra's Bay has red cliffs and thick pines that contrast wonderfully with each other. Visit the historical sites of Crya, Arymaxa, or Lydae.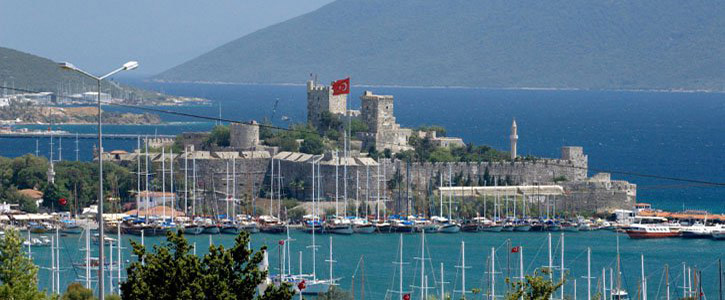 Day Three:
Visit the Byzantine ruins of Gemiler island, and keep an eye open for the remains of mosaics on the buildings. Play with the yacht's water toys, and then take a dinghy tour to the Dead Sea!
Days Four and Five:
Stroll through Kalkan, a very pretty town, before you move on to Patara where we recommend you take a tour and then lounge on the beach. Patara is a harbor town with an old temple and baths. It is also close to Xanthos, Letoon, and Saklikent, which offer a change of scenery and a chance to go trekking.
Day Six:
Cruise on to Kas, a typical seaside town with amenities for tourists. Here you'll find plenty of shopping and dining options, and you'll also be close to the ancient sites of Myra and Andriace.
Days Seven, Eight and Nine:
Take your time in Kekova visiting the many inlets, historical sites, and the sunken city! *If you are chartering for only a week, you could leave from Kas.
Day Ten:
Plan to arrive in Finike with a bit of an appetite because it is famous for its produce. Pick up a variety of oranges and vegetables, and have your charter chef incorporate them into your evening meal! Make a side trip to Lymra or Arykanda to see historical sites.
Day Eleven:
Drop anchor in the Bay of Adrasan and explore the village of Cavuskoy, known for its natural beauty. Ask the crew to arrange a visit to Gegae if you want to experience the area's history.
Day Twelve:
Stop in Port Ceneviz and neighboring Inlet Sazak for quick access to Olympos. This area offers good shelter for yachts, which is perfect for readily moving from the boat to the land.
Day Thirteen:
Expect the unexpected in Phaselis and Kemer! The significant port and popular town are full of shopping opportunities, nightlife options, and fellow tourists. The area has a fun atmosphere, and it is a good place to mingle.
Day Fourteen:
Make your way to Antalya, your final port of call. This is Turkey's most famous sea resort town and is a great place to end your Mediterranean charter. Here on the Turkish Riviera you'll have one more chance to try the local cuisine, drink a strong cup of coffee, and lay in the sun before making your return trip. Breathe deeply, relax, and enjoy!
This Is Just a Sampler!
NOTE: This is intended as an outline of some of the cruising locations in Turkey. You will work with your Captain to tailor your charter to your preferences both before you arrive and while you are onboard. Alterations likely will be made along the way based on your preferences and mood.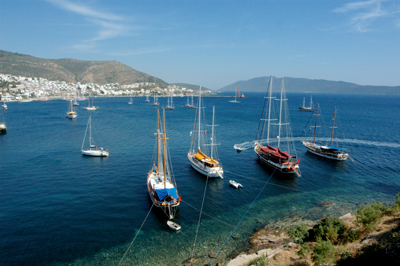 Interested in reading more about this great coastline: Read More >
or Contact us to start planning your crewed yacht charter!
Browse Charter Yachts in Turkey: