Bahamas - A Year-round Destination
The rainy season in the Bahamas is from May to October, but that doesn't mean you shouldn't plan a vacation then! The Bahamas are comprised of hundreds of islands so as you travel from north to south, you will experience slight variations in weather. For example, the northern Bahamian islands may receive more rain than their southern counterparts. But this should not discourage travelers from using the shoulder season to visit islands north of Nassau; rain rarely ruins an entire day and is often a welcome respite from the heat. The summer actually displays a more stable weather pattern with calmer waters and hot days.
From September to May it is less rainy and not as hot. While summer days average 85 degrees Fahrenheit, winter temperatures hover around 75 during the day and 60 at night. Bear in mind that the temperature difference can be as much as 10 degrees between the southern and northern islands. Nearly constant trade winds cool people off in any season, and you can assume they will be blowing at about 10 knots. These winds blow northeasterly from October to April and southeasterly from May to September.
Winter Bahamas Vacations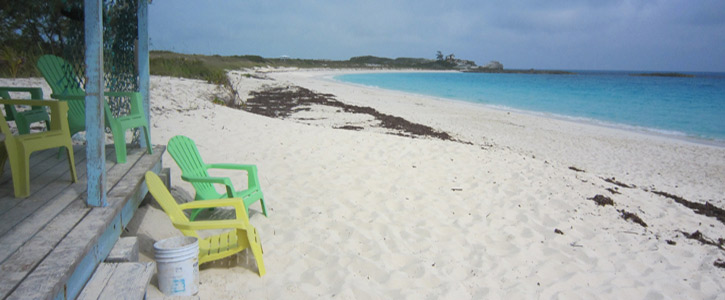 These islands share weather trends with Florida and the Keys. Winters are certainly warmer than most of the USA, but once or twice during the winter a cooler weather pattern will emerge putting temperatures in the 60 degree range for a few days. Likewise wind patterns may show longer periods of northerly winds that blow from cooler climates and can drop temperatures. Again, that is certainly not to say it's a poor location for winter vacations!
The fantastic temperatures, proximity of countless islands large and small, and a plethora of water based activities make the Bahamas a great family destination. Don't discount the shoulder seasons where it's very easy to walk beaches and be the only group there! Current Forecast for the Bahamas.
Hurricanes?
One common question is about hurricanes and their effect on Bahamian charters. The highest possibility of storms occurs in August and September, but the official hurricane season runs from June to November. Hurricanes can affect all vacations in the Bahamas during the summer, but with the weather tracking capabilities today the Captain always has notice of their approach so as not to put yachts or clients at any risk.
What Time is Recommended?
There is no absolute answer when to go since people have individual tolerances for heat, rain, and water conditions. The good news is that whenever you decide to take your Bahamas vacation, we will be available to answer questions and steer you on the right course!
Skeptical about charters in the Bahamas and wondering whether you would be unlucky enough to bring winter with you to your Christmas destination? Well, there's only one way to find out more information. Our specialists can discuss the options with you without any obligation and can help you make a well-educated guess about the right time to go.