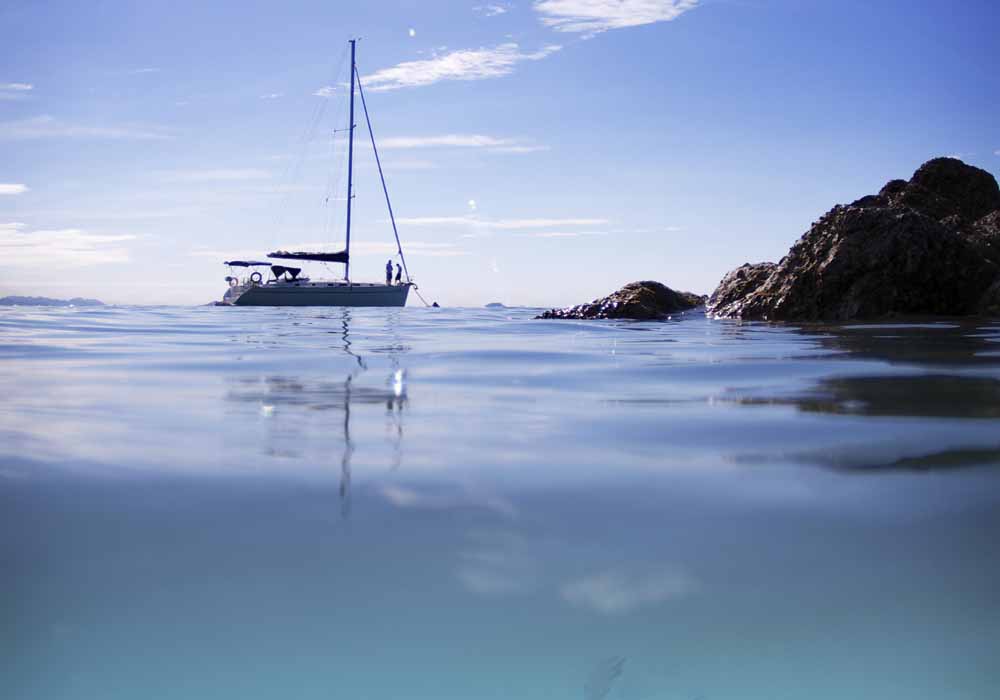 Countless Harbors in Close Proximity
The Virgin Islands offer over 20 picture perfect islands that your captain will know intimately. This gives you some options. Maybe you have heard about a particular place that you would like to go, but don't have any other ideas. Mention that to your captain and he will work that into the itinerary. Perhaps you have no idea of where you would like to go. Just tell your crew what things you would like to see and do, and they will tailor your charter to suit. Or maybe you are totally open to ideas. Your crew will be happy to take you to the highlights. Whatever the case, you will no doubt have an amazing trip in the Virgin Islands!
An outstanding feature of the Virgin Islands is that the anchorages are plentiful and very close to one another. This allows you to see many beautiful destinations in a short period of time. You'll wake up in the morning, breakfast aboard your yacht, be underway for an hour or so, and arrive at a gorgeous beach. So possibly you decide to spend part of the day there, you explore the island, picnic in the sand, and by late afternoon it's off to another destination an hour or so away! That's the beauty of having so many fabulous islands so close together. Your entire time during your charter you can look out and see incredible views of unbelievable places. There is so much to see, including gorgeous palm treed islands, crystal clear, blue waters, and beneath the waters, coral reefs and sea life! One of your biggest choices will be how to see it. Whether you choose a motor yacht, sailing yacht, or catamaran you'll find endless enjoyment in the Virgin Islands. You may not want to go home!
BVI or USVI?
So BVIs or USVIs , which do you choose? Both offer enticing attractions, for instance, the BVIs have Cane Garden Bay, Dolphin Discovery, and Smuggler's Cove, while the USVIs offer Maho Beach, Trunk Bay, and Watermelon Cay. How can you say one is better than the other? Well, it would be really hard to win that debate! Here's the good news, well, actually, the great news! You don't have to choose! You'll be on a fully crewed yacht charter, and these islands are very close together! You can see both!
If you've decided the Virgin Islands are the charter for you, the best way to get there is to fly in to the small airport in Tortola, which has access via San Juan from the US and Europe, or into the larger airport in St. Thomas, USVI. There is a fast ferry system between the two main islands.
Virgin Island Life - a Slower Pace.
Most people aren't accustomed to the slower pace of life that is found in the Virgin Islands. A friendly greeting is common on many of the islands. Away from the larger places like Road Town, Tortola, most of the islands have bars or restaurants right on the beach with like-minded vacationers. These establishments aren't too formal, and you'll enjoy their famous laid back Caribbean style and pace of life. This slower pace is easy to get used to though, so be prepared. You might just find that leaving your Virgin Island yacht charter is extremely difficult upon your return home. No matter though, we can always find you another yacht to book for your next visit!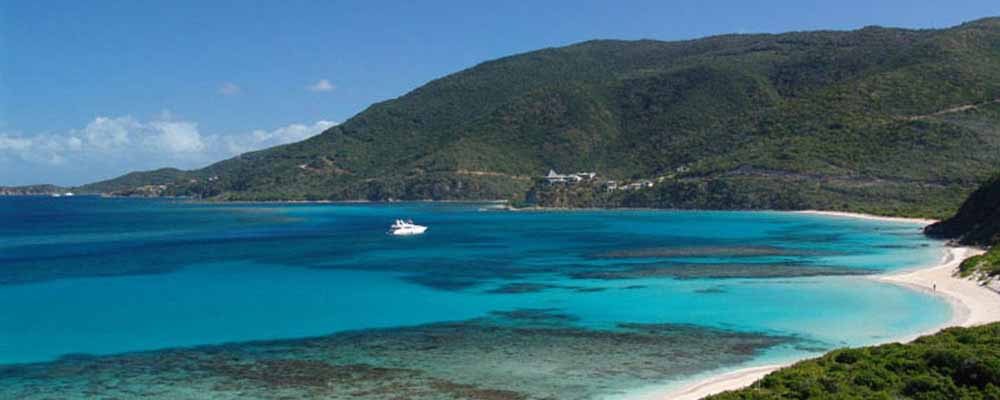 Under The Water In The Virgin Islands
Under the incredibly blue, crystal clear waters of the Virgin Islands are a treat hard to find elsewhere. Here you have the perfect opportunity to go snorkeling or SCUBA diving and come up close to the amazing coral and marine life that abound in these waters. You might like to try out "The Bight" on Norman Island. Here you can snorkel with parrotfish, brain coral, sea fans, sponges, and much more. Perhaps a shipwreck is more what you are looking for? Then the RMS Rhone might be of interest. Although it is better seen diving, it is still of great interest as a snorkeling spot. Or possibly swimming with sea turtles is the experience you have in mind. Maho Bay has snorkeling over sea grass beds and it's common to see the sea turtles in the morning or late afternoon. Whatever the case, once in the water, you may never want to come out! Just be careful; you will probably want to have a sun proof snorkel shirt so you don't get sunburnt!
Popular Islands to Visit On A Virgin Island Charter
That capital of the BVIs is Road Town, Tortola. Road Town buzzes with activity and is a yachting hub with the hustle and bustle that one might expect of the capital of the largest island of the BVIs; however, Tortola also offers peaceful beaches and the serenity of Sage Mountain national park.
St. Thomas is a busy cruise ship destination with an abundance of shopping, restaurants, and easy plane access. Many people often choose to fly in to and out of St. Thomas to rendezvous with their yacht charter due to their convenient overseas flights. After all, Tortola is just a fast ferry ride away. But don't automatically discount St. Thomas as "nothing to see here". Secret Harbour is said to have some of the best snorkeling, especially for some of the younger ones, and Honeymoon Beach has amazing sand and views.
St. John offers excellent anchorages and snorkeling spots. Since St. John is 67% National Park, you'll be able to enjoy swimming and beach activities without the disruption of waverunners or waterskis. Some great things to see in St. John include Irving National Park, The Reversing Falls, The New Brunswick Museum, and shopping at Saint John city market or Mongoose Junction.
A picture perfect island that you nearly have to stop at the minute you see it is Jost Van Dyke. You could hardly say you've been to the Virgin Islands if you didn't visit Foxy's Bar and Restaurant on Jost Van Dyke for a "Pain Killer". This is a drink that is guaranteed to relieve stress, tension, and whatever else might ail you! Foxy's boutique is also a great place to find souvenirs. "Main Street" is a great place for a stroll and is really just a path running down to the beach. Another fun place to find a drink is called the Soggy Dollar Bar in White Bay; named the Soggy Dollar Bar, because people swim in from their yachts and their dollars are soggy when they arrive.
Virgin Gorda is not only a popular, but a remarkable charter destination. It features a resort and beautiful beaches, along with a hiking trail to the top of Virgin Gorda Peak. There is exceptional diving and snorkeling offered on Virgin Gorda as well. The Virgin Gorda baths are world famous for their natural sea water pools that were created by wave action and the absence of gigantic plutonic granite boulders. Nearby Fallen Jerusalem offers outstanding snorkeling with schools of tropical fish. The wreck of the Chikuzen has been called one of the best diving wrecks in the Caribbean, and if you aren't a diver, snorkelers have found it amazing as well, as it offers a vast array of sea life. Enjoy a sail up to Virgin Gorda Sound and visit the famous Bitter End Resort, and if you are up for a little more adventure, you might have your captain arrange for kiteboarding here.
Email Us Now - Free unbiased advice.
Featured Charter Yachts in the Virgin Islands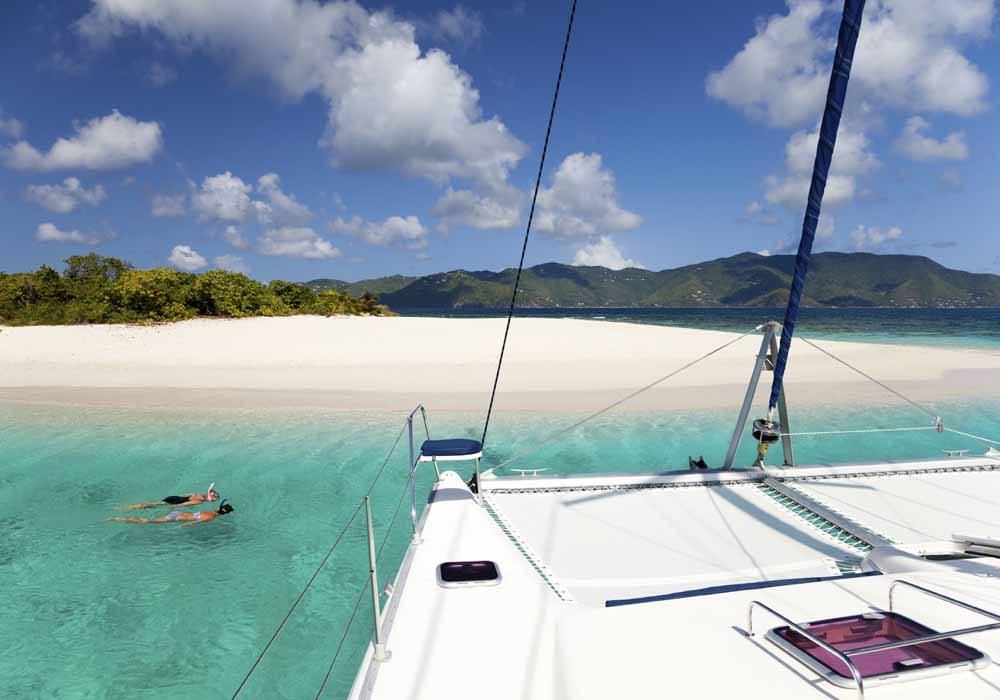 Find Your Perfect Yacht for a Virgin Island Charter
Select a yacht type and your budget below to see a variety of the charter yachts that we have in our online database that may interest you. While we strive to keep a nice selection of yachts in our database for you to view, we do not have every available yacht online. There are many more yachts available to you by contacting one of our specialists.
Ready to learn more about a Virgin Island charter?
It would be our pleasure to assist you in finding the perfect, fully crewed yacht for your vacation in the Virgin Islands. With so many islands to see and so many surprises to discover, you'll be pleased with how flexible a charter is here. As you enjoy your charter you'll love how you can change your itinerary as different opportunities arise. For free, unbiased advice, and to discuss what your vision of the perfect itinerary would be, please call, email, or use the "contact us" form!
Email or Call a specialist - available 7 days a week.

Virgin island Charter costs and options:
Have general questions about charter in the Virgin Islands? We have answers for you.
What to do on in the Virgin Islands?
What are all the costs involved in a Virgin island charter?

Additional Resources:
Some websites on the web that may be useful for additional information about the BVI's.
Official Website of the BVI tourist board.
A guide to exploring the BVI's.

Visit the local Jost Van Dyke home page

How we can help:
We are here to answer any question, no matter how large or small it may be. Our experience is available to you 7 days a week at no cost or obligation to you.
Contact us by phone or email.