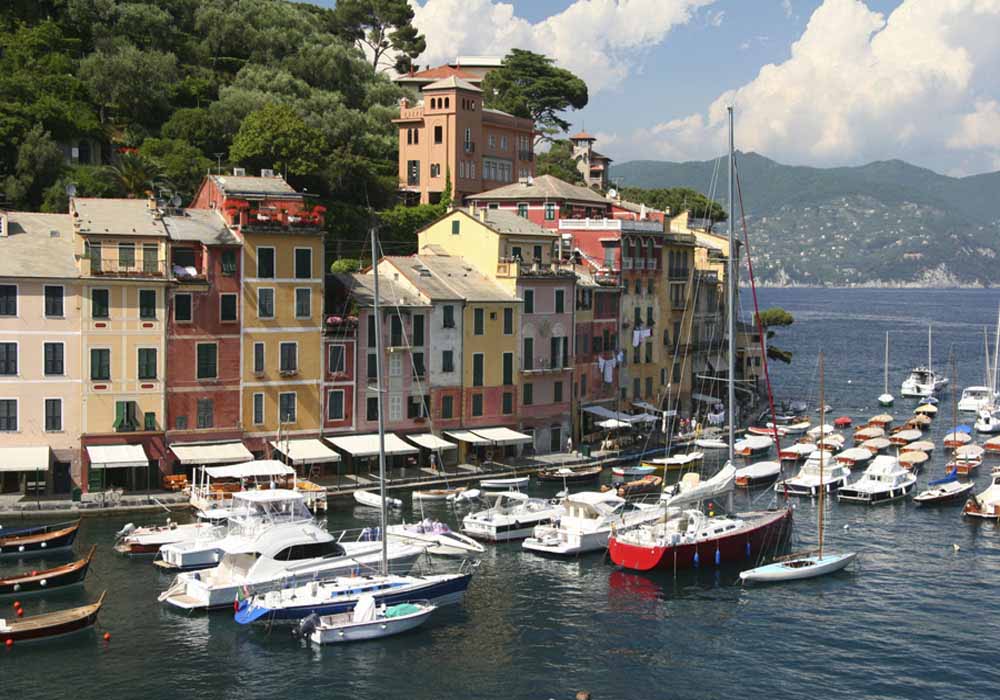 Islands in the Bay of Naples
Ischia
Due to her volcanic origins there are many thermal fountains that have made Ischia famous worldwide.
Capri
A.K.A. the "Queen of the Mediterranean." Many centuries ago this island was torn apart from the coast of Sorrento by an earthquake. The magical game of lights in Capri's famous 'Blue Grotto' attracts tourists from all over the world.
Procida
Procida is still quite protected from the massive influence of tourists and provides visitors with a step back in time. Meandering around colorful houses and narrow passages offers a delightful way to see this Italian island from a local's perspective.
San Remo
San Remo is called Villagio dei Fiori (town of flowers), and once you get there you'll see why. There are several spectacular parks and gardens scattered throughout the town, and they're a real treat for the senses. Take shelter in the ornately pretty Russian Orthodox church San Basilio. Go horseback riding, gamble at the casino, play 18 holes of golf. Or visit the busy shopping streets and town market. Let the floral scent lead the way!
San Remo, also spelled Sanremo, is a wonderful tourist destination. San Remo was founded in Roman times, and in the 18th Century, the town decided to build Santa Tecla fortress to stand up to ever-expanding Genoese borders. San Remo's history also includes time spent as the Kingdom of Sardinia's annexation on continental Europe. The fort that once served as a prison is now becoming a museum ready to welcome visitors from all over the map.
Portovenere
Portovenere is cited as the westernmost tip of the Golfo della Spezia. The town is dominated by its 13th century citadel, and quite a few of the colorful houses date back as far. Check out the 12th Century Church of San Lorenzo and the tiny 6th Century Church of San Pietro, which sits high on a cliff overlooking the bay and is clearly visible to incoming vessels. With only a couple of shopping streets and no nightclubs, this is a great escape. Make a side trip to La Spezia for shops, bars, and restaurants.
Portofino
This port town started life as a fishing village, and although that is still evident, it currently has a more polished feel. All the houses and cafes lining the port are painted in warm, bright colors, and restaurants of varying styles are placed among them as they edge the square. You'll love exploring the tiny streets that wind up the hillsides surrounding the center of town. Take in the Mediterranean views over coffee al fresco. >
There's virtually nothing bad about Portofino, Italy; its one seemingly undesirable quality, the rockiness of the coast, is actually one of its best features once you see the view from atop and appreciate the colorful houses that perch whimsically along the harbor. Portofino is a fishing village set in a cozy crescent shape in the Genoa Province of northwestern Italy. It has a small harbor, a hilltop castle that watches over the town, and enough olive groves to guarantee you won't forget you're in Italy! Portofino's proximity to the UNESCO World Heritage sites of Cinque Terra is also part of its convenience and charm.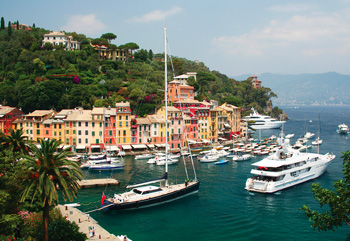 Once in Portofino, you will find life is easier sans automobile anyway, as the area is basically car free and parking is an unwanted hassle. Since you're on foot, you should visit Portofino's regional park whose combination of wooded and flowery areas make for an excellent day trip. You'll get to walk among olive trees, hike trails, and view some lovely Italian gardens.
Eating in Portofino
The one thing that can't be avoided in this fishing village is seafood! While dining al fresco and overlooking the harbor, you would find it odd if the menu weren't heavy on frutta de mare, and Portofino certainly delivers the goods in this respect. The other suggested dish is a Genovese specialty, green minestrone. Wash this down with some Italian vino, and you'll be good to go!
Gorgeous Geography
Portofino's naturally craggy coast makes for some interesting sites. Swimming and boating are restricted in the marine protected areas, but there are 20 dive sites and a number of outfits waiting to take you into the deep. Christ of the Abyss, a submerged statue in the San Fruttuoso area, is there as much as an attraction as to "watch over" fishermen and divers. The steep coastline has terrifically scenic overhangs, and Portofino's cobble-stoned town is quite popular with the luxury yacht set. A path near the botanical gardens will lead you up to Castello Brown where you can take in the entire scene. And once you've covered the recommended sites of Portofino, you can head to Cinque Terra's five unassuming towns, which are linked via coastal walkway. Looking down onto the town and the water from a rocky ledge might make you feel powerful, but looking up at the same cliffs and olive groves from your chartered yacht will fill you with a sense of awe. Portofino is truly inspiring!
Contact Us Now
- Free unbiased advice.