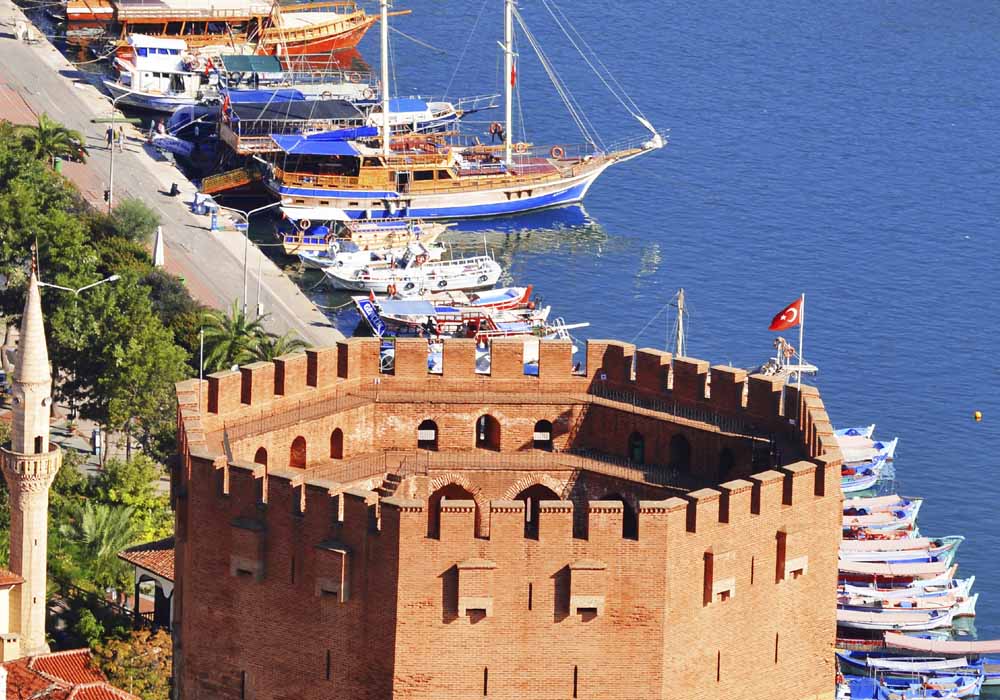 Marmaris.
Find yourself in the yacht mecca of the eastern Mediterranean. Marmaris is a port city located on the southwest coast of Turkey. Here you will find two major marinas and a popular yacht charter start and end location.
Marmaris is located on the Turkish coast of the Aegean sea. Charmingly picturesque, the town is found at the foot of the mountains bustling with activity as a popular holiday resort town. From the ancient acropolis, to the winding narrow streets of the old city, and to the marinas where frequent sailing regattas are held. Marmaris is a major Turkish attraction and beautiful destination in itself.
Gulet Yacht Charters
These yachts offer unique charter experiences for a vacation under sail. Often limited in water toys by the nature of their shape, many of our guests love their vacations aboard this type of yacht. Turkey is unique with the gulet type of motor sailing yacht. Many new yachts have been recently launched and the standards of comfort and luxury are outstanding.
Why charter in Turkey?
A Turkey yacht charter is a one-of-a-kind experience that could be ideal for large families seeking for a family adventure. For active teenagers, most boats provide a decent selection of water toys, while delicate rides to virgin sandy beaches are a treat for small children. Grandparents can go ashore for a private lunch or a lesson on the history and culture of the area. The evening dinner on board will most likely be a laid-back event, filled with wonderful cuisine, drinks, and lively chat about the day's experiences. If you want to do something special to commemorate a significant birthday or anniversary but your children are all grown up and on their own paths in life, chartering a yacht with your closest friends may be the ideal option. Crews are pleased to organize one-of-a-kind parties. The northern coast of Turkey, between Cesme and Bodrum, is an excellent starting point for touring the country.
Build a Diverse Itinerary
Guests on a Turquoise Coast charter can plan to spend several days, if not weeks, taking in the sights, which include ancient civilization marvels, modern culture and gastronomy in the several port settlements, and beautiful natural landscape. Cesme, a northern hamlet that was once a small and rustic fishing village before being discovered and developed into a vibrant resort, is an excellent site to start your charter. Despite the addition of a gorgeous Marina with a choice of stylish shops and restaurants, the town has managed to retain much of its ancient beauty. Cesme Castle, located west of the center plaza, provides breathtaking views over the town, harbor, and coastline, as well as insight into the history of the area's defenses. Sifne, a little village near the city center, is famous for its mud baths and therapeutic pools on the beach.
Kusadasi
Another popular charter departure point is Kusadasi, where you may meander through the city and stop at any of the many bazaars selling handcrafted carpets, rugs, and other arts and crafts. To unwind at the end of the day, visit one of the city's numerous beautiful hammams. The oldest and most traditional is the 'Hammam Kusadasi', built in the late 15th century. Dilek National Park's remote bays are ideal for a day of sunbathing, meandering along the white sand, and playing with the water toys you brought with you.
The best time to visit
Many resorts on Turkey's southern coast attract visitors all year round with amenities such as spa treatments, heated pools, and low winter rates. The Mediterranean Sea has an average temperature of 64 degrees Fahrenheit throughout the winter, making swimming enjoyable even on the coldest days.
The Turkish Riviera is best visited between the beginning of May and the middle of October. High temperatures and 11 or 12 hours of daylight encourage you to spend the entire day outside. May through October is a wonderful time to visit if you want to avoid temperature extremes.
Contact Us Now
- Free unbiased advice.
Sample Charter Yachts in Turkey