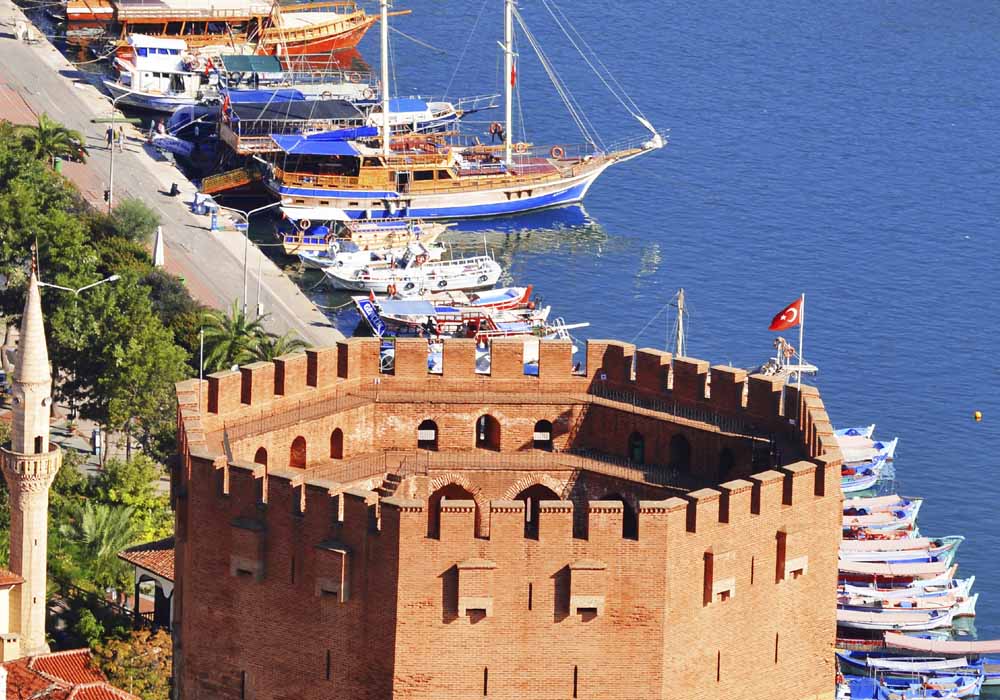 Marmaris.
Find yourself in the yacht mecca of the eastern Mediterranean. Marmaris is a port city located on the southwest coast of Turkey. Here you will find two major marinas and a popular yacht charter start and end location.
Marmaris is located on the Turkish coast of the Aegean sea. Charmingly picturesque, the town is found at the foot of the mountains bustling with activity as a popular holiday resort town. From the ancient acropolis, to the winding narrow streets of the old city, and to the marinas where frequent sailing regattas are held. Marmaris is a major Turkish attraction and beautiful destination in itself.
Gulet Yacht Charters
These yachts offer unique charter experiences for a vacation under sail. Often limited in water toys by the nature of their shape, many of our guests love their vacations aboard this type of yacht. Turkey is unique with the gulet type of motor sailing yacht. Many new yachts have been recently launched and the standards of comfort and luxury are outstanding.
A Sample Turkey Yacht Charter
This sample one week cruise is courtesy of Captain Jack McKay, yacht "Harmony".
Discover Turkey's densely layered cityscapes, magnificent classical ruins, "high energy" bazaars that give the country a unique position at the crossroads of Asia and Europe, a truly unique destination for a yacht charter.
Day 1
Arrive at your yacht in Marmaris, Turkey's yachting capital and get started with Turkey's Ottoman history with a look at Suleyman the Magnificent's 1522 castle overlooking the harbor, as you settle into the yacht and meet the crew.
Day 2
Take a short cruise to Kumlubuk Bay. Visit the Hellenistic ruins of Amos, including an altar to Dionysus. Back in Marmaris, explore modern Netsel Marina and stop for a drink in its waterfront shopping and dining district. Marmaris is a bazaar town, so leave room in your luggage for unique treasures and memories!
Day 3
Explore beautiful bays at Serce Limani. There are six shipwrecks in and around this sheltered cove, the most famous of which is the 1035 wreck of a vessel loaded with glass. Cruise on to the jewel-like Ekinick Bay. Perhaps you'll go ashore and have a massage at the spa in the Hotel Ekincik.
Day 4
Leave the yacht for a day trip on land to the ancient coastal town of Caunos with its acropolis, agora, and temples. Board a small boat for an unforgettable trip up the Daylan River to see the ancient tombs carved into the cliff face before returning to relax aboard your yacht.
Day 5
Cruise southeast to the Gulf of Fethiye, renowned by sailors as one of the most scenic gulfs in the world. Tie up at Ece Saray Marina in the port of Fethiye, with a stunning backdrop of mountains. Relax onboard, take a stroll or perhaps relax in a Turkish bath at the marina's spa.
Day 6
Head to Tersane Island for lunch, then follow in the footsteps of Cleopatra and Marc Anthony, who honeymooned in Manastir Bay. Your next stop is the beautiful bay of Oludeniz, surrounded by white sand beaches.
Day 7
Return to the Gulf of Fethiye for a stop in Tomb Bay, filled with fifth-century ruins. Disembark in the scenic port of Gocek which is convenient to Dalaman Airport for connections back to Istanbul.
Contact Us Now
- Free unbiased advice.
Sample Charter Yachts in Turkey