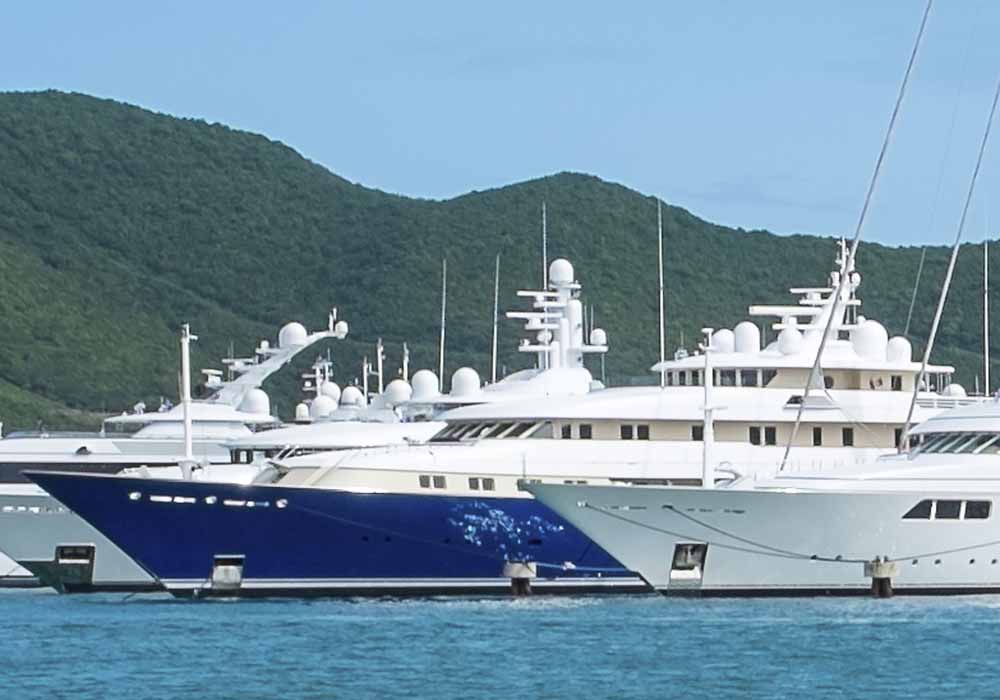 Would you prefer a motor or sailing yacht?
Motor yachts travel faster and tend to be larger, typically appealing to those seeking a luxurious, elegant vacation. Sailing yachts, while also luxurious, tend to accommodate fewer guests and appeal to those who have a romance with the sea and an appreciation for tradition. Sailing yacht charters may be fully inclusive of meals and fuel, whereas motor yacht charters would normally charge for meals and fuel in addition to the base fee.
What is your total budget?
Knowing how much you want to spend is the last element in finding the ideal yacht for you. Your charter budget should include everything except the travel costs to/from your destination. In other words, the charter budget will cover accommodations, meals, beverages, and associated gratuities for all in your party.
How We Help You.
International Yacht Charter Group does not represent a limited set of charter yachts. We have access to countless charter yachts worldwide and have the largest selection available for you to browse online. We will talk on the phone to get to know you better and to learn what you are looking for. After researching and discussing options with private yacht managers, we would then present you with the full details of a number of available yachts.
Once you have reviewed the initial suggestions, we will explain the terms of each and then identify further choices based on your feedback until we find your ideal charter yacht. We personally visit many yachts each year in different charter destinations to ensure we have a working knowledge of today's fleet.
We'll help you with an itinerary, communicate your preferences to the crew, and remain available to you throughout all stages of the charter. We are happy to work with you over several days or several months until we find your perfect yacht charter.
Common Questions Once the Yacht is Chosen
How is the yacht reserved?
All yachts are booked using a type of Charter Agreement. The terms may seem overwhelming at first, but we are there to explain the process and ensure that you are satisfied with the agreement. All questions regarding the yacht's Captain or owner will be answered prior to reservation.
How much will I pay for a deposit?
Once you are ready to sign the agreement, you will be asked for a 50% down payment. This, with the fully signed agreement, constitutes a confirmed booking of the yacht.
Can I choose the food?
You will be sent a fairly detailed questionnaire asking you about food and beverage preferences as well as any dietary or medical conditions in your party. This is critical so that your crew will have the yacht properly provisioned, with everything customized for you to enjoy the perfect charter.
When do I have to make the final payment?
Final payment and usually your APA (Advance Provisioning Allowance) are due 30 days prior to departure. The APA is based on your cruising plans, which we will have discussed during the selection process. If the APA is listed in the charter agreement terms, then you will be asked to cover this at the same time as your final payment. During your charter the Captain will monitor outgoings and will reconcile actual expenses against the advance funds at the end of your charter or shortly afterwards.
What if I have to cancel?
The charter agreement will document what happens in various circumstances if the charter is cancelled. Cancellation insurance is available to protect your funds should unforeseen circumstances prevent or cut short your charter. Ask your charter professional about these options as you complete your charter selection.
What are the Captain's responsibilities?
A luxury yacht charter is customized to your needs. The Captain will always try to comply with your wishes, and he may be able to present various new possibilities along the way. However, his primary responsibility is for the safety of his passengers and the yacht and, should a circumstance arise, he has the final decision on safety issues.
What is the standard gratuity rate?
At the end of every charter, at your discretion, it is customary to tip the Captain and crew. If you have had a wonderful time and think it was due to long hours and attention to detail by the crew, then 15% of the base charter fee is reasonable. Exceptional service often warrants 20% or higher.