Day One:
Welcome aboard! You can arrange to meet your private charter yacht at the famous Atlantis Resort Marina, space allowing, or at Hurricane Hole Marina. This marina is within walking distance of Atlantis and is able to accommodate yachts over 200 feet in length. There is a new alternative at Albany which is easily accessible from the airport. After you settle in, go shopping on Paradise Island, visit the aquarium, or swim with dolphins (ask the captain to make a reservation before you arrive). Hit the casino at night and then rest up for the next day.

Day Two:
Sail to Eleuthera. You will want to dock at Harbour Island, a.k.a. "the new St. Barts." Walk around Dunmore Town and take in the colorful flowers and bright homes. Buildings here date from the 1800s, and many have been wonderfully restored. Eleuthera is known for its pink sand beaches, which you will have to see for yourself. And if you're up for it, this is the perfect place to go scuba diving!
Day Three:
Maybe stay at Eleuthera and take advantage of its varied landscapes. Head inland to see Eleuthera's beautiful hills and valleys; walk towards the coast to see steep cliffs and more breathtaking beaches. Let the crew introduce you to your yacht's water toys or just lounge on deck, enjoying the view of Eleuthera from the water.
Day Four:
Next stop, Exuma Cays. The captain will gladly take your charter yacht to Exuma National Park where you will get to see a range of interesting things. It's a longer trip but worth the visit to Warderick Wells in Exuma Land & Sea Park. Check out Loyalist Ruins (Americans fleeing the Revolutionary War settled here), or ask for guidance from a Park Ranger who will show you the ropes. Follow the trails to find rare plants, dark caves, and other hidden gems. Perhaps end the day with a beach picnic.
Day Five:
Go to Sampson Cay Club & Marina. Dock the yacht and discover the good food and friendly bar behind the Club's stone facade. Then go over to Staniel Cay to see "Thunderball Cave" where the James Bond movie of the same title was filmed.
Day Six:
Sampson Cay and Staniel Cay are a mere yacht tender ride away from each other. Stay in this area another day and relax. Sampson Cay is in a protected area of the island, and Staniel Cay is a great place to watch the sun set. These Out Islands are little treasures midway through the Exumas Cays where you will enjoy tropical peace and tranquility.
Day Seven:
From here, sail north to Shroud Cay. Eat lunch on board and then use your yacht's tender to roam the creeks that are here in this northernmost part of the Exuma Land & Sea Park. Lay on the beach! Take a hike. Soak it all up before you go back to Nassau by the end of the day.
Day Eight:
Savor your last morning aboard the yacht before you disembark at noon. Take notes on your favorite parts so you know where to start the next time around!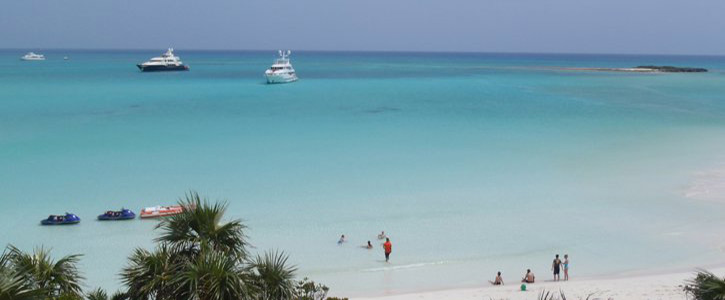 This Is Just a Sampler!
NOTE: This is intended as a suggestion, to give you an idea of where you may want to explore in the Bahamas on a charter yacht. You will work with your Captain to tailor your Bahamas charter to your preferences both before you arrive and while you are on board. Alterations likely will be made along the way, for instance, when you fall in love with one deserted beach and just can't leave!
Interested in learning more about the Bahamas: Read more >
or Contact us to start planning your crewed yacht charter!
Browse Charter Yachts in the Bahamas: