Day One:
Climb aboard your charter yacht at either Atlantis Resort & Marina or Hurricane Hole. Both of these ports on Paradise Island offer easy access to duty free shopping and to the amenities at Atlantis Resort. Check out the aquarium at Atlantis or lounge at the beach before returning to the yacht for evening drinks on deck. Welcome aboard!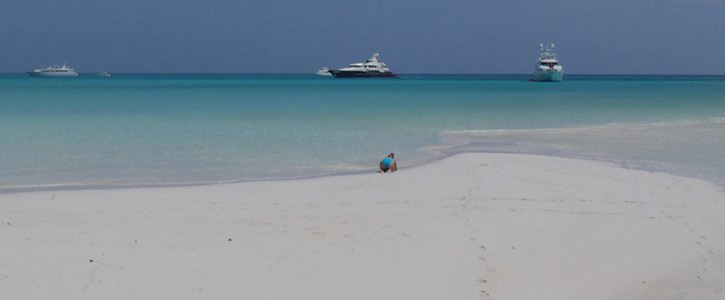 Day Two:
Let the captain take you to lovely Eleuthera where you will be able to fully unwind from everything you left behind. Eleuthera is 90 miles long (but only two to three miles wide!), and its ample coastline features steep cliffs as well as great beaches. Utilize the island's reliable taxi service to see the hills, lakes, valleys, and woodlands that make up the interior.
Days Three and Four:
Spend two more nights at Eleuthera while you soak up the sweet life and calming environment. Head in to nearby Harbour Island's Dunmore Town to see the colorful houses and the pink sand beaches. Go to Devil's Backbone to experience some fantastic diving. Or ask for a fishing excursion to make the most of those sunny afternoons.
Day Five:
Swing back by Nassau (across the bay from Paradise Island) and spend the night here in the capital of the Bahamas. This is a good place to experience Bahamian downtown culture and do some shopping. There are bars and markets, street vendors, and fish fries. Visit a museum, check out the local art scene, or shop Bay Street! Or avoid the hustle and bustle of the shops completely, and head stright to Highbourne Cay.
Day Six:
Cruise over to Highbourn Cay or Allen's Cay on your way to the Exumas. Take a refreshing swim or watch iguanas in their natural habitat. Then get settled in at your mooring in the Exumas National Park. On land you will be able to see ruins, rare plants, and caves. You are also encouraged to hike the trails and have a cookout on the beach!
Day Seven:
Sleep in after your busy day in the Exumas and have lunch aboard the yacht. Steam towards Sampson Cay Marina and make a quick trip to the Sampson Cay Club. This solid stone structure is not going anywhere! It has been attracting sailors to its friendly bar for years. Take the yacht to Staniel Cay, the 'hub of the Exumas,' for a pleasant evening outdoors.
Day Eight:
Spend the morning in this area and go see Thunderball Cave (of James Bond fame) if you haven't already. Time to decide where you like best, the captain can certainly find you some deserted beaches to wander, cozy anchorages to play with water toys or other options. Have lunch at Norman Cay perhaps. Stay long enough to snorkel the plane wreck off Norman Cay's shores.
Days Nine and Ten:
This time is reserved for you to revisit your favorite ports or just enjoy the isolation of the Exumas and the crystal clear water. Do you prefer the amazing wildlife of the Exumas, the quaint villages of Eleuthera, or the golf course and spa at Atlantis? You can also request a secluded spot to drop anchor for a private swim. Snorkel around the yacht, sunbathe on deck, or nap on the nearest beach. It's your choice! The Captain will be sure to remind you to travel back to Nassau in time!
Day Eleven:
After a week and a half of pampered bliss you may be reluctant to leave. Although this is the day you disembark, it is also the day you start planning your next yacht charter! Safe travels until next time!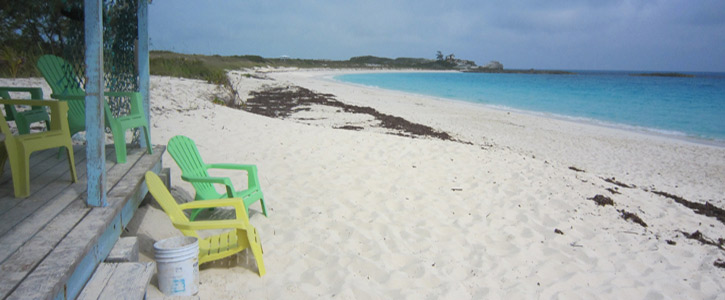 This Is Just a Sampler!
NOTE: This is intended as a suggestion for a longer charter in the Bahamas. No two charters will be alike, and most charter captains have their favorite secret places for guests to enjoy based on their preferences. Alterations likely will be made along the way, for instance, when you find the beach of your dreams and just can't be persuaded to leave!
Interested in learning more about the Bahamas: Read more >
or Contact us to start planning your crewed yacht charter!