Day One:
Your privately chartered yacht will be waiting for you at Atlantis Marina on Paradise Island. Get acquainted with the crew, unpack in your stateroom, and have lunch aboard your fabulous floating home! Take the afternoon to visit the grounds of Atlantis Resort and make a plan. Visit the aquarium or try out the waterslides? Play a round of golf or pamper yourself at the spa? Let the chef know if you'll be eating dinner on board or at the resort; then finish the evening with a roll of the dice at the Atlantis Casino!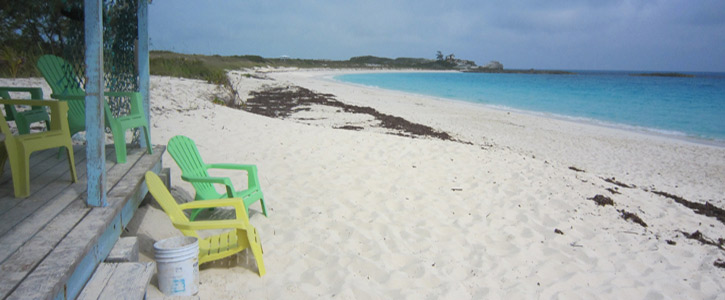 Day Two:
En route to Harbour Island, you can stop at Spanish Wells, which is a town on St. George's Cay, Eleuthera. Explore the community via golf cart before heading on to Harbour Island. Dunmore Town, just east of north Eleuthera, is on Harbour Island where you will be able to see pink sand beaches and New England style architecture! It is quaint and tropical at the same time.
Day Three:
Hang out at Pink Sands Resort set on three miles of pink sandy beach! The facility is beautiful and sophisticated and even offers cooking classes that explore Bahamian custom, spice trading, and local history. You can take a five minute water taxi ride to neighboring Eleuthera for more walks on colorful sand or secluded getaways into beachy alcoves.
Day Four:
After breakfast on your yacht, the captain will take you to Highbourn Cay in Exumas. Highbourn Cay welcomes yachts to its premiere marina, and it is blessed with eight beaches within walking distance of where you will be docked! The Exuma Cays are a spectacular example of Bahamian beauty and biodiversity. You will definitely want to visit beaches, go for a swim, do some snorkeling, and engage in all the water sports you can imagine!
Day Five:
Sail on to Allen's Cay and visit with its iguana population. These "Bahamian Dragons" are endangered so expect to be part of their conservation by looking and not touching! Next you can cruise to Norman Cay where you'll have lunch before setting out to find the famed Colombian plane wreck that now serves as a dive site attracting many kinds of tropical fish. Afterwards, you will anchor at Big Major's Spot (for a quiet, private evening onboard) or head on to Sampson Cay, which also has a nice new marina.
Day Six:
When you have relaxed a bit in Sampson Cay, cross the water to nearby Staniel Cay, which offers more in the way of socializing. Belly up to the yacht club bar or stay outdoors and explore. You'll have to see Thunderball (as in James Bond) Cave and do some snorkeling. Then break for lunch before you cruise to Hawksbill Cay and anchor near the beach. Use the yacht's kayaks! After dinner, get some rest while the boat gently rocks at this immaculate, secluded cay.
Day Seven:
You will start your last, full day by cruising to Shroud Cay where you'll swim or hike and then eat lunch. Play games, read a book, or just relax onboard as you head back to Nassau that afternoon. Use your time back in Nassau to do the things you didn't get around to on your first day. Consider having dinner at the Graycliffe Club and then return to the yacht for cocktails on deck underneath the stars. Though we expect you'll want to relish the yacht's chef's creations one last time.
Day Eight:
Feast on one last breakfast spread aboard your chartered yacht before leaving for the airport around 10. Safe travels!
This Is Just a Sampler!
NOTE: This is intended as a suggestion, to give you an idea of where you may want to explore south of Nassau. You will work with your Captain to tailor your week long yacht charter to your preferences both before you arrive and while you are onboard. Alterations likely will be made along the way, for instance, when you fall in love with one deserted beach and just can't leave!
Interested?
Interested in learning more about the Bahamas: Read more >
or Contact us to start planning your crewed yacht charter!
Browse Charter Yachts in the Bahamas: