Day One:
Start your trip off right by boarding the yacht at Naples Mergellina Harbour and then immediately leaving for Capri! You'll enjoy a delicious lunch on board en route, and then arrive at Capri in time to visit the Blue Grotto and shop in the town Anacapri. Have drinks or dinner at Da Paolino where patrons feast on terrific food and wine under the restaurant's own lemon trees!
Day Two:
Eat a hearty breakfast aboard and then set out for gorgeous Positano! On your way, allow the captain to make a stop at the Galli Islands, a.k.a. 'Le Sirenuse.' This archipelago between Italy and Capri is so named for their infamous siren calls that keep people coming back. Have lunch on board and then get to Positano in time for walking before dinner. Positano has a main street that wanders steeply down from the main road to the beach and then back up again, sure to give you a good appetite!
Day Three:
Get ready for a full day! Make an excursion to Pompeii from Positano or Sorrento by private car. Stand at the Temple of Jupiter and get a look at the effects of Mt. Vesuvius, still looming in the background. Get a private guide and walk the streets of Pompeii. Finally, once back aboard, cruise to the town of Amalfi to spend the night. Look up from your comfortable berth on the water to see people living their lives on Amalfi's dramatic cliffs.
Day Four:
Cruise along the Costa Amalfi as you make your way to Sorrento. Let the crew serve you lunch on board before you go ashore. Check out the harbor (overlooking the Bay of Naples) and then visit Piazza Tasso. Have some refreshing Limoncello made from local lemon rinds. And all the while you'll be able to keep Mt. Vesuvius in sight!
Days Five and Six:
Go to the Piccolo Marina on Capri's south shore where you will pick up a mooring and have the day to explore. Piccolo Marina's immediate area provides a nice place to swim. Once on land, you might want to see the ruins of Imperial Rome or go for a leisurely walk along the villa-lined promenade Belvedere of Tragara. There's always the great shopping in Capri! Always plenty to do on Capri!
Day Seven:
Depart for Mergellina Harbour where you will disembark at noon. There's plenty to see and do right here, so don't rush off without getting a taste of Napoli! Sit down at an outdoor cafe and have an incomparable Italian coffee while you think back on the highlights of your trip. See you next time!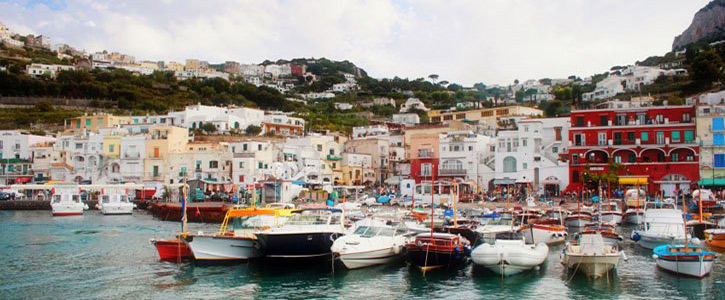 This Is Just a Sampler!
NOTE: This is intended as an outline of some of the cruising locations in the Bay of Naples. There are many other islands to explore, such as Ischia and Procida, if you have a few days longer. You will work with your Captain to tailor your Italian charter to your preferences both before you arrive and while you are on board. Alterations likely will be made along the way based on your preferences.
Interested in the Bay of Naples: Read More >
or Contact us to start planning your crewed yacht charter!
Browse Charter Yachts in the Mediterranean: