Day One:
Your journey begins in Tortola! There are several marinas on the busy island of Tortola. Prearrange the best place to meet your captain and crew. You will be served lunch aboard and have time to settle in. Then it's off to Jost Van Dyke! Get the party started at Foxy's Bar with one of their famous Painkiller drinks. Buy a souvenir from Foxy's boutique, everyone does!, and then go for a walk on the main road running parallel to the shore. Eat aboard and wonder at the yachts's chef's creations.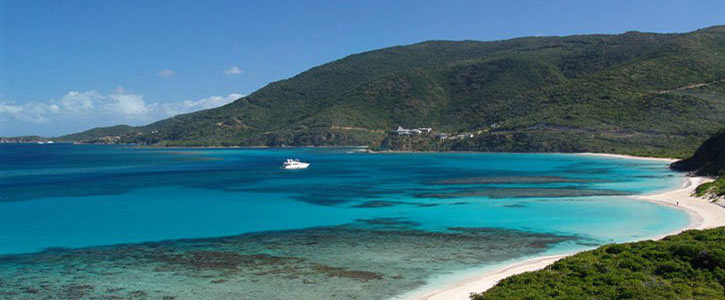 Day Two:
Steam to Monkey Point, just off Great Guana Island. Between Monkey Point and White Bay you can find a coral sand beach that is accessible by tender. The snorkeling around Monkey Point is fantastic, and the aforementioned beach is a secluded gem. Have lunch at Monkey Point and then go to Marina Cay. This tiny island is also a snorkeling hot spot. Keep an eye open for squid! Marina Cay is where Robb White (Perry Mason author) made his home and had many adventures.
Day Three:
Sail to Virgin Gorda early in the morning and take advantage of your time at the "Baths." These naturally-formed sea water pools are just asking to be explored and admired, and are a must see if it's your first time here. Spend the morning at this beautiful, unusual spot before heading over to Virgin Gorda Yacht Harbour. Once your captain has secured a mooring, go check out Spanish Town. Eat lunch here, go shopping, and stop at one of a handful of bars. This is a great day to stretch your legs on land and see what life is like in the BVIs.
Days Four and Five:
Get the most out of Virgin Gorda Sound by staying here for two nights. After the captain has moved your yacht to the sound, you should visit the high-end resorts at Bitter End and Biras Creek. The amenities at Bitter End will keep your whole group entertained, and the restaurant at Biras Creek is outstanding. During the day, take your yacht's tender to Eustacia Sound to snorkel and sneak a peek at Richard Branson's privately owned Necker Island. Charter guests usually enjoy renting a Jeep to explore Virgin Gorda on their own. Take a little side trip to Little Dix Bay in order to recuperate from all your adventures!
Day Six:
Carry on to Anegada, a little, low-lying island that is surrounded by reefs, if the weather is good. Anegada seems unassuming, but its shoreline has wrecked many a ship! Do not worry though! Your captain will deftly maneuver around the area and give you the opportunity to dive at this exciting spot! The beach barbeque at Lowell's Anegada Reefs Hotel is recommended for dinner if you can be tempted away from the fabulaous food on board your yacht. Extremely fresh lobsters will be served to you right on the beach, or maybe your crew will cook and serve them too.
Day Seven:
Cruise to Cooper Island, making a stop along the way at Fallen Jerusalem or 'The Dogs.' Fallen Jerusalem is for snorkeling, while 'The Dogs' is a dive site. Fallen Jerusalem's National Park has a bird sanctuary and secluded beach. At 'The Dogs,' three small keys northwest of Spanish Town, expect to see exotic fish, colorful coral, and even a plane wreck! Cooper Island is quintessentially Caribbean. The pristine beaches will make it hard to leave.
Day Eight:
Discover Peter Island! Though there are several good beaches here, Deadman Bay is reputedly one of the best in the BVIs. Stay for a while and then hike over to the windward beach. Stick around for lunch before deciding between Great Harbour or Little Harbour for your night's mooring. Peter Island has a luxury resort, so you can definitely take time from swimming and sunbathing to get pampered and massaged, if you'd rather.
Days Nine and Ten:
Find out why everyone loves The Bight! This popular destination at uninhabited Norman Island is a vibrant water-based display of Caribbean fun. All the watersports you can imagine are waiting for you here at The Bight. Row in a kayak, or race around on waterskis! Use your last full day to get in some more snorkeling. 'The Indians' are a group of rock formations in the channel off Norman Island, and they are great for snorkeling or diving. Then watch the sun set on a perfect vacation from the deck of your private charter yacht.
Day Eleven:
Disembark in Tortola at either Road Town OR West End. Stick around, catch a ferry, or board your plane. Just don't forget how much fun you had! Be sure to note your favorite parts so you know what to incorporate into your next charter!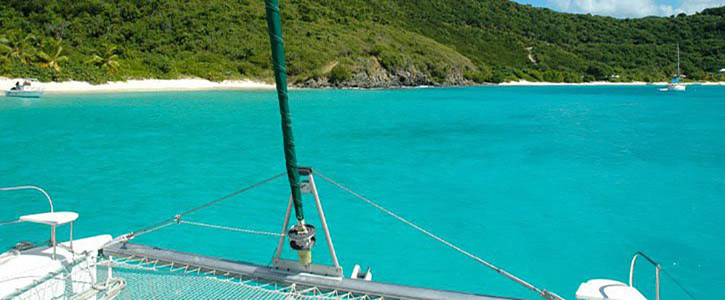 This Is Just a Sampler!
NOTE: This is intended as a suggestion, to give you an idea of where you may want to explore on a yachting vacation in the British Virgin Islands. There is plenty to see and do, even if you just want to idle your time in paradise. Your Captain will be full of ideas too, so take advantage of the advice. Alterations likely will be made along the way, for instance, when you fall in love with one harbor and just can't bear to leave!
The Virgin islands:-Read more >
or Contact us to start planning your crewed yacht charter!
Browse All Charter Yachts in the Caribbean:
Motor and Mega yachts Sailing yachts Crewed Catamaran Yachts