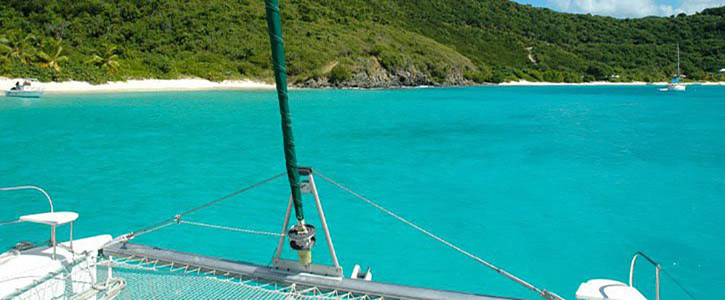 Day One:
Meet the crew at Crown Bay Marina in bustling St. Thomas. Get accustomed to the green hillsides and blue water as you eat lunch on board your chartered yacht. Ask the crew whether your group would be happier setting out for Christmas Cove on Great St. James or Caneel Bay on St. John. Grab a secluded mooring in Christmas Cove or see the National Park in Caneel Bay. Spend your first blissful night tucked away in your stateroom.
Day Two:
Decide between a morning at the Caneel Bay Resort where you can leisurely stroll the manicured grounds or Leinster Bay where you can tour ruins and Annaberg Plantation. Then go to Cruz Bay, St. John to shop at Mongoose Junction. Look for Colombian Emeralds, R & I Patton's custom jewelry, and the Bamboula boutique full of items found only in the islands.
Day Three:
Visit the West End on Tortola, the capital of the British Virgin Islands. Charter guests love the art galleries, Pusser's Rum Shop, and other island outposts. Get a taxi or rent a Jeep and discover all of Tortola! There is plenty to see and do, including a shell museum and diving excursions. The best place to stop for refreshments is Skyworld Restaurant, and don't forget to take your camera! Spend the night here at action-packed Tortola.
Day Four:
The next stop is Jost Van Dyke, where you would be remiss if you didn't swing by Foxy's. This famous bar serves up an island specialty, the Painkiller. Treat yourself to one and a run through Foxy's neighboring boutique. Let the crew know if you're up for dinner at Sidney's Peace and Love Restaurant in Little Harbour. Have the best native-style lobster and enjoy the local music jump-up with dancing. Stay here or cross to Great Harbour to spend the night.
Day Five:
Linger over breakfast and then take the yacht's tender to Sandy Cay (owned by the Rockefeller Estate) for a great morning at the beach. Then spend the afternoon at the sparkling White Bay beach. This Caribbean gem has a beach bar set only a few yards from the water. Have the captain anchor at Cane Garden Bay, Tortola for the night. Try Quito's Gazebo restaurant/beach bar for the music and the drinks.
Day Six:
: Tour the rum factory on Tortola, and then cruise over to Monkey Point near Great Guana Island. Use the beach for walking, swimming, and snorkeling to work up your appetite for lunch. In the afternoon, go to Marina Cay, which was originally settled by Perry Mason author, Robb White. The tiny Marina Cay, surrounded by coral reefs, is great for squid spotting!
Day Seven:
Cruise to the Virgin Gorda 'Baths', natural sea water pools perfect for snorkeling. The captain will take you on to Virgin Gorda Yacht Harbour and let you explore around Spanish Town. You wll also want to check out the elegant but low-key Little Dix Bay to walk around and have a drink. Get a taxi ride over to the windward side's copper mine. On your tour, keep an eye open for cows! Spend the night at Spanish Town.
Day Eight:
Have breakfast aboard the yacht and then move on to Virgin Gorda Sound. Check out Virgin Gorda's Bitter End Yacht Club. They have water sports, a sailing school, diving opportunities, and outdoor workouts. The Biras Creek resort compound has a terrific hilltop restaurant and all the high-end amenities you would expect. Virgin Gorda sure knows how to pamper its guests!
Day Nine:
Stay another whole day here in Virgin Gorda Sound. There is more to see so get ready for a full day. Take the yacht's tender to Eustacia Sound and enjoy top quality snorkeling. Rent a Jeep to explore the undeveloped terrain of Virgin Gorda. Then return to Little Dix Bay to relax and savor the laid-back Caribbean atmosphere.
Day Ten:
Don't be alarmed when you stumble onto the shores of Anegada! This island is so low it appears to have drowned. The reefs around the island have also led many ships to wreck along the coast. Of course, people know about the reefs now and avoid them until it's time for a dive! Anegada is also famous for lobster beach barbeques. Eat your seafood under the stars!
Day Eleven:
Enjoy a day at Peter Island. The beach at Half Moon Bay comes highly recommended. From there, hike over to the windward beach to look for exotic shells. The island is mostly undeveloped with bike paths that run through its tropical flowers and beautiful green interior. You can spend the night at Great Harbour or Little Harbour, Peter Island.
Day Twelve:
Get ready for a real crowd pleaser! The Bight at Norman's Island is definitely prized among yachting types. Norman Island is actually uninhabited, but its waters see plenty of action. This area is the place to go for waterskiing, kayaking, and snorkeling. Explore the 'caves' and patronize the floating restaurant/bar. You wll see The Bight's appeal in no time!
Day Thirteen:
Head to Coral Bay, St. John for more water sports. St. John is well-preserved both on land and in the surrounding water. Coral Bay is quieter than Cruz Bay even though it is near shops, restaurants, bars, and wildlife (donkeys, goats, and roosters)! In the afternoon you may go ashore at Cruz Bay after your captain has cleared Customs and Immigration back into the US.
Day Fourteen:
Steam back to your favorite anchorage. The Virgin Islands are a prime destination for their sailing conditions, charming towns, and proximity to one another. You can island-hop on your last day or spend the whole time swimming at your favorite beach. Perhaps you've only been browsing so far, which makes today the day to go buy those souvenirs!
Day Fifteen:
Return to St. Thomas and prepare to disembark at noon. This has been quite a trip! Make some notes about the highlights of your adventure so you know exactly what you want don't want to miss next time.
This Is Just a Sampler!
NOTE: This is intended as a suggestion, to give you an idea of where you may want to explore on a longer two week yachting vacation in the Virgin Islands. There is plenty to see and do, and your Captain will tailor your trip in these islands to your preferences both before and during your charter. Alterations likely will be made along the way, for instance, when you fall in love with one harbor and just can't bear to leave!
The Virgin islands:-Read more >
or Contact us to start planning your crewed yacht charter!
Browse All Charter Yachts in the Caribbean: