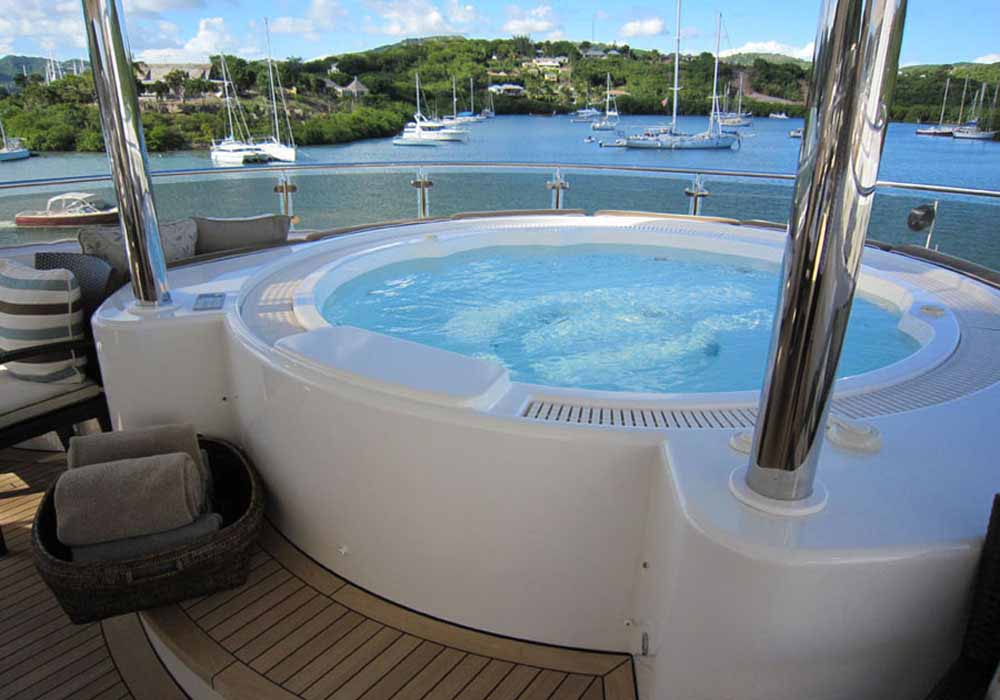 Why Not Stay a While?
The Heritage Museum spotlights elements of life that are important to understanding St. Maarten. Exhibits showcase the Amerindians, the colonial times, and the natural environment. Fort Amsterdam, Fort Willem, and Philipsburg (the capital) perfectly illustrate Dutch cultural influence. Get up close to nature at St. Maarten Zoological Park and Botanical Gardens, which are a great stop on the grand tour. Take time to appreciate St. Maarten's terrestrial treasures before heading to the beach for aquatic adventure!
A popular destination in itself, St. Maarten/Martin has plenty of options along its coast and offers a window into the dual cultures of the French and Dutch. France and the Netherlands agreed to divide the island centuries ago. Ships have been making this a port-of-call ever since. Sun drenched beaches and beautiful views beckon you to have your Captain drop anchor one more night.
Dutch nightlife brings steel drum bands echoing through the streets as you cruise into one of the many nightclubs or casinos. Lively music rejuvenates after a day of duty-free shopping. With your vessel safe in its anchorage, you can explore an international popular destination.
St. Martin Highlights
St. Martin is the French half of the world's smallest territory to be shared by two sovereign states. French St. Martin is 53 square kilometers in size and has a slightly smaller population than its Dutch counterpart. However, other aspects of St. Martin diverge more starkly from St. Maarten. St. Martin is lavish, elegant, and cosmopolitan. It is also much quieter than St. Maarten and an ideal place for secluded rest and relaxation.
Neighborhoods
Marigot: The capital of St. Martin, Marigot, is home to many sidewalk cafes, bars, and music venues. Marigot's Marina Royale hosts street entertainers, and the French mentality pervades life here as proven by long meals and late nights. Check out Marigot for upscale shopping and dining. There is a marina with ferry service to Anguilla or St. Barts. Accommodations with land-based amenities: Hotel La Plantation, Hotel Beach Plaza, Residence Anse des Sables, or Couleur Cafe Guest House.
Village of Grand Case: Grand Case on the northern shore is the "culinary capital of the Caribbean." Grand Case has gourmet restaurants with international chefs. Tuesday means Harmony Night, and Harmony Night means that the main road closes for artists and musicians. This neighborhood is known almost exclusively for its fine food, but it has its share of accommodations as well.
Orient Beach: This crescent-shaped beach is nudist-friendly at the far end. Tourists off cruise ships may end up at Orient Beach, but overall it is a good place to go with your family. St. Martin is known for its duty free shopping, and therefore, its designer goods at reasonable costs! The currency here is the Euro though you may be able to use the American Dollar (at a less than favorable exchange rate).
Beaches
First of all, Cupecoy Beach deserves mention as the only au natural beach. Cupecoy is the site of sandstone cliffs and cozy caves. Then there's Burgeaux Bay at the west end of Simpson Bay. It is within walking distance of Maho Village. Simpson Bay Beach is near the airport and has a crescent-shaped harbor that holds extravagant yachts. Great Bay Beach has a fun boardwalk and is quite family friendly. You can find food, drinks, and plenty of street vendors here. Last but not least, Point Blanche is a local secret you might want in on. Pick up some authentic barbecue from a roadside lolo (grill) on your way so that you fit right in.
St. Maarten provides the perfect balance to St. Martin, and together they make a wonderful, peaceful destination. St. Maarten is festive with good beaches, fine jewelry (duty free shopping!), plenty of casinos, and exotic drinks. Be sure to try the local liquor, which is rum-based and made with guavaberries. All of the action on St. Maarten can be overwhelming, but a sip of island cocktail ought to put you in just the spirit to make those important decisions.
Baie Aux Prunes. Quiet beach near many of St. Martin's most exclusive homes. Baie Nettle. French side of Simpson Bay Lagoon; near many hotels (with watersports) and the capital, Marigot. Friar's Bay. Great place to bring your family since it is protected from winds and heavy surf. Gallion Beach. Nature Marine Reserve on the windward side with trails to hike and reefs to snorkel. Ilet Pinel. Several beaches, restaurants, bars, and shops are easily found at Ilet Pinel.
The day of Columbus's arrival here was the feast day of St. Martin of Tours, hence the island's present name. The official language of St. Martin is French while St. Maarten's are Dutch and English. St. Martin retains its French affiliation and is a sedate yet sophisticated Caribbean destination. L'Esperance Airport can accommodate small jets and propeller planes from neighboring islands so be sure to include St. Martin on your island-hopping itinerary.
Email Us Now - Free unbiased advice.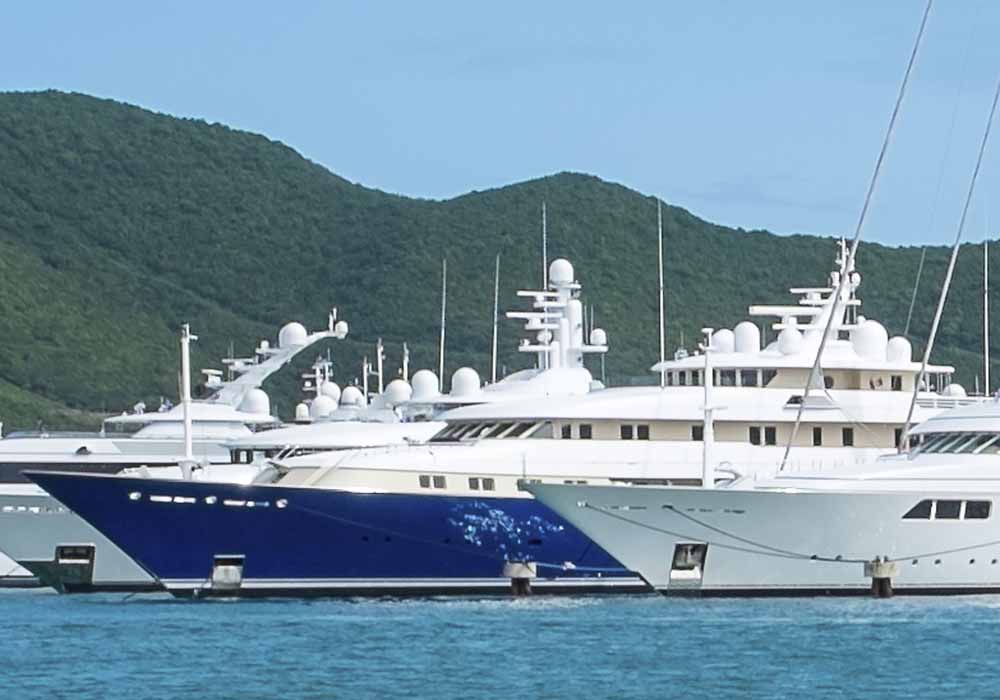 Find Your Perfect Yacht for a St Maarten Charter.
Select a yacht type and your budget below to see charter yachts that we have in our online database. We do not have every available yacht online, many more yachts are available by contacting one of our specialists.
Ready to learn more about a luxury St Maarten yacht charter?
Seasonal Activities on the island.
Recreational activities include horseback riding, biking, hiking, tennis, or even golf at Mullet Bay's 18 hole course. The St. Maarten Heineken Regatta, four days of offshore racing in early spring, is followed by a land-based party with live entertainment. And don't forget Carnival season! St. Maarten's Carnival festivities are what you've come to expect of any substantial annual party being held in the Caribbean: parades, costumes, concerts, and all of it on or near the beach!
So? Have you made your decision to book your yacht charter? One of our experts will be glad to assist you in getting just the right yacht for you. We are the ONLY yacht charter company you need to contact to find and book your Caribbean vacation.
Contact a specialist - available 7 days a week.

Yacht Charter costs and options:
Have general questions about yacht charter in St Maarten? We have answers for you.
What to do on a yacht charter?
What are all the costs involved in a yacht charter?

Additional Resources:
Some websites on the web that may be useful for additional information about St Maarten.
St Maarten's information Portal.
Tripadvisor page about St. Maarten

Amazing things to do in St. Maarten guide.

How we can help:
We are here to answer any question, no matter how large or small it may be. Our experience is available to you 7 days a week at no cost or obligation to you.
Reach us by phone or email.