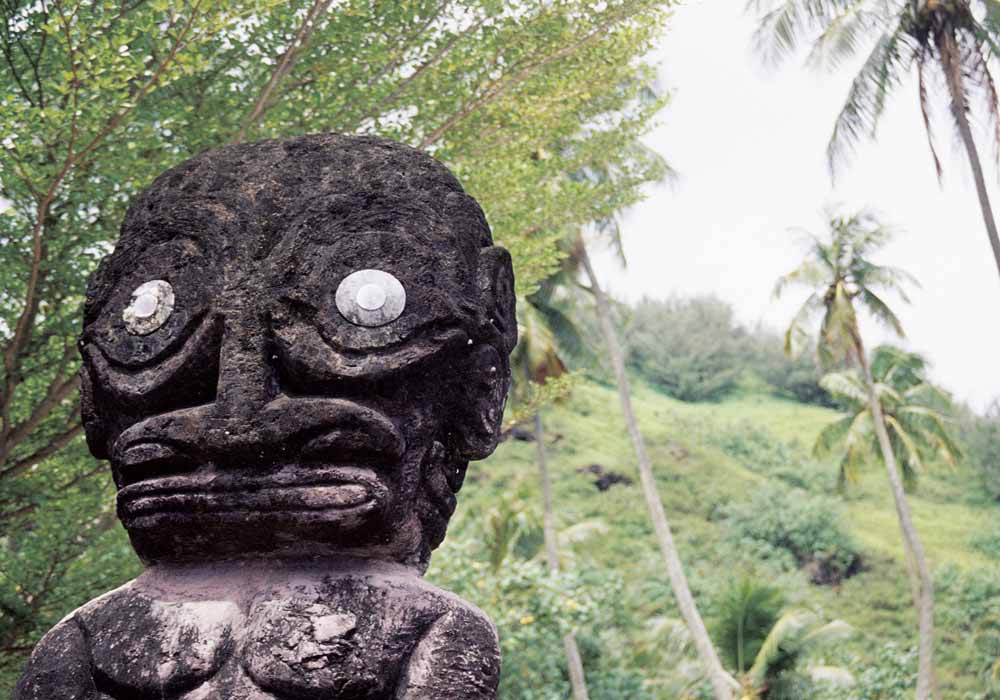 The best times to visit French Polynesia fall between May and October. Tahiti and French Polynesia cover an area the size of Europe so there's no shortage of territory to explore. Visit the Tuamotus Atoll chain for its white and pink sand beaches. Check out the cultural scene on Raivavae, which presents authenticity in the middle of Bora Bora-esque charms. Go diving in Rangiroa's coral atoll amidst sharks and dolphins. Get up close to South Pacific archaeological history on the Marquesas Islands where tikis (sacred statues) abound. Picnic on Taputapuatea's restored meeting grounds.
Tahiti and French Polynesia embody the spirit of the South Pacific with their hip shaking fast dances, earth-oven feasts, and terrifically bright, varied landscapes. Everything is better in living color! You need to see it for yourself.
Each island chain should be considered a single charter destination. Thinking of a longer vacation to really explore French Polynesia? Then charter for a month or more to be fully immersed in this part of the world. You can hike without being surrounded by throngs of tourists, catch fish without being disturbed by passing party cruisers, or dive without running into another human being. The South Pacific is surely one of the last treasures of this world.
The Marquesas Islands
Lying 750 miles northeast of Tahiti, these islands are wonderful for a 7-10 day yacht charter. All of the islands are within a 3-5 hour cruise from one another on your charter motor yacht, and include some of the world's most spectacular fishing and dive sites. In addition to the exotic yacht charter locale, the Marquesas Islands boast friendly and warm-hearted local people. Island guests are encouraged to discover their unique shops, often filled with beautiful, well-crafted wood and bone carvings.
A wide range of land based activities are available; from hiking through ancient Polynesian ruins, to visiting waterfalls up to 1,000 feet high on the main island of Nuku Hiva. Further south, on the island of Ua Pou, lie the most striking geological formations on the planet; undoubtedly the guests will be amazed. A trip to the famed artist, Paul Gauguin's grave on Hiva Oa is also a popular attraction.
The Tuamotu Islands
These islands, which are 250 miles northeast of Tahiti, are a group of large atolls that are full of marine life. Hiking is not the focus here…Your Yacht charter will be all about fishing and SCUBA diving. You could have a one week charter here, but we recommend two weeks to be able to really experience everything. Private jets can land on the islands of Rangiroa and Fakarava. We highly recommend starting on Fakarava or Makemo and cruising down wind the whole charter. This is on the list of the great diving areas of the world. Fakarava has a north pass and a south pass for diving and some charter yachts can cruise inside the atoll to reach the southern pass, which has fabulous beaches. Before you finish your charter, a must is a visit to one of the local pearl farms; it's a fantastic way to learn about the delicate production process and to purchase inexpensively some of the world's best pearls. Go to the Tuamotu Islands and be changed forever!
Fiji
The beautiful islands of Fiji are 1,900 miles from Tahiti and 1,400 miles from Brisbane, Australia. The 300 Fijian Islands are spread out over 250 miles of ocean Seeing them all would mean a significant time commitment so a one week charter will require you to choose a specific area to cruise. You will collaborate with the charter captain to ensure that you see all of your points of interest along the way.
Fiji is the South Pacific's biggest hub. Savusavu is its most popular yacht anchorage and also a good starting point from which to check out Indo-Fijian culture, including fire-dancing and Hindu temples. Visit Fiji from June to September and plan to take advantage of the terrific snorkeling and diving. Bring your logbook and expect to make several entries!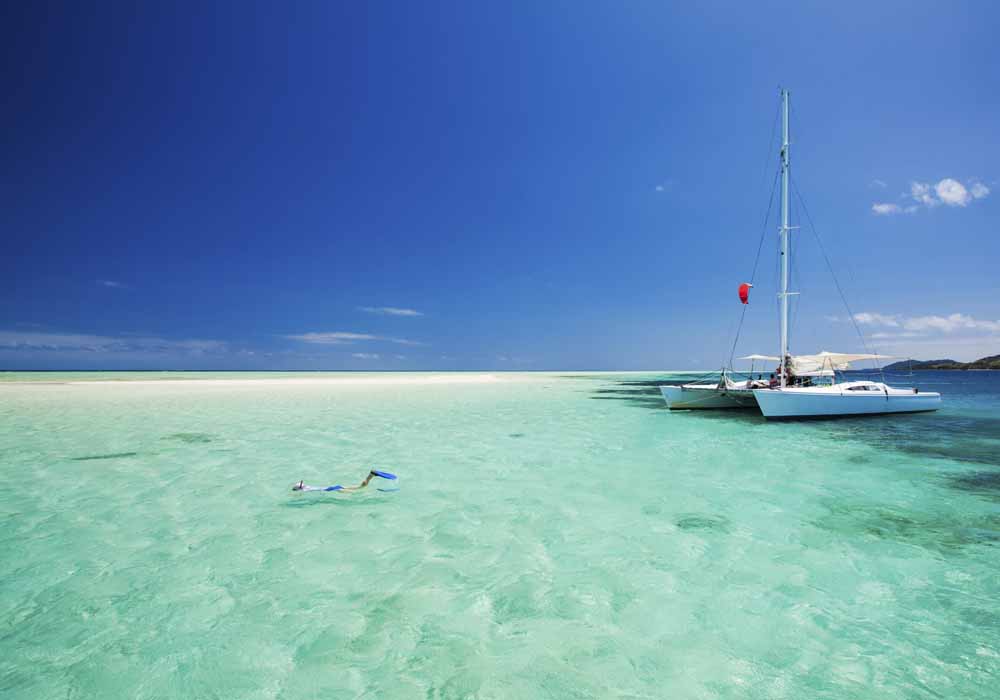 New Caledonia
The islands of New Caledonia have been governed by France for the last 150 years and are located 2,900 miles from Tahiti and 800 miles from Brisbane, Australia. They include Ile des Pins, the Loyalty Islands, and the large island of Grande Terre.
The main island, Grande Terre, is a lush and mountainous strip of land surrounded by one of the world's biggest reefs; second only to Australia's Great Barrier Reef. The local Melanesian populations are called the Kanaks and their tribal customs are still alive. More recently, their culture has been going through a renaissance. There are some 27 indigenous languages spread out over the pockets of land.
A vacation on a charter yacht in New Caledonia would begin in the capital town of Noumea on Grande Terre. As the yacht charter continues, you likely would cruise your way toward the south end of the island, through the barrier reef to Ile des Pins, with wonderful SCUBA diving and fishing along the way. After that, it is on to the four coral atolls that are the magnificent Loyalty Islands, where you can walk along sublime white sandy beaches.
The Great Barrier Reef
There are certainly interesting attractions along the 2,500km length of the Reef. From Brisbane, up the Queensland coast, and on to New Guinea, you'll see a range of wildlife. The two most popular cruising destinations are the Whitsunday Islands and the northern section of the Reef, which runs between Cairns and the tip of Cape York.
The Reef is the world's largest coral reef comprised of thousands of separate reef systems, coral cays, and hundreds of tropical islands. Rely on your yacht to get you to the best dive sites where you can work on your scuba skills while keeping an eye out for whales, dolphins, porpoises, sea birds, and 1500 other fish species!
Get to know all of the Reef's charms! Its islands, reef systems, dive sites, Aboriginal history, coastal rainforests, and associated unique wildlife are not to be missed. Seasonal attractions include humpback and minke whale sightings from June to October, mass coral spawning in October and November, and gamefishing around this same time.
The Reef is one of the Seven Natural Wonders of the World. It is actually visible from space, but we recommend seeing it up close!
The Cook Islands !
The Northern and Southern Cook Islands are about 600 miles west of Tahiti and 2,600 miles east of Brisbane, Australia. Creating a truely The Northern Group is characterized by the classic low atolls of the South Pacific and consists of Pukapuka, Nassau, Suwarrow, Rakahanga, Manihiki, and Penrhyn. It is extremely remote, so they are very rarely visited. There is fantastic SCUBA diving and fishing, but this should be considered for a yacht charter onlyfor the truly adventurous.
The Solomons islands
The exotic Solomon Islands lie 1,200 miles north of Brisbane, Australia and 3,000 miles west of Tahiti. The 1,000 islands of this nation include a mix of large islands with densely forested mountain interiors and fast-flowing rivers, and tiny, low-lying coral atolls that encircle stunning lagoons. This is a great choice for a charter yacht vacation centering upon scuba diving.
Up to the 1930's, this was the location of one of the world's most violent and dangerous people. Head hunting, cannibalism and skull worship were central elements of the traditional culture. Now, the Solomon Islands are a famous SCUBA diving destination, with colorful coral reefs, exciting underwater topography and hundreds of sunken WWII ships and aircraft. Many of these wrecks are accessible and, having been undisturbed for 60 years, have a wealth of objects remaining. The "Toa Maru", a huge Japanese freighter that sank in WWII, still has tanks, ammunition, motorbikes and sake bottles in her hold. The most popular site, with some 50 ships and aircraft, is Iron Bottom Sound off Honiara.

Yacht Charter costs and options:
Have general questions about yacht charter in general? We have answers for you.
What to do on a yacht charter?
What are all the costs involved in a yacht charter?

Additional South Pacific Resources:
Some websites on the web that may be useful for additional information about the South Pacific.
A yachting guide to the South Pacific.
Wikipedia's page about French Polynesia.

How we can help:
We are here to answer any question, no matter how large or small it may be. Our experience is available to you 7 days a week at no cost or obligation to you.
Contact us by phone or email.